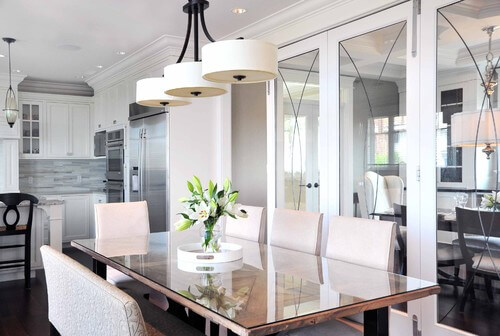 With a refined aesthetic and timeless appeal, glass tabletops are one of those design features that are guaranteed to look stunning in any room. But, there is one important prerequisite. The glass for the tabletop needs to be cut to size and finished with the hand of a professional glazier.
When glass is cut to the right dimensions to suit your space, and it has the essential features of quality and craftsman knowledge – the right type of glass and finish are used to suit the surroundings – you can't go wrong with glass tabletops.
This is true whether you're envisioning a dining room table or a unique, eye-catching living room coffee table with a surface made from crystal clear float glass.
Here are the steps to take that will ensure your glass tabletops are cut to size, from the initial measuring and planning through to the completion of your table.
Choose the Right Style of Glass to Have Cut
Depending on the finished look that you want from your table. There are various styles of glass you can use, such as frosted or tinted glass. However, by far, the most common request is for clear glass.
This is because transparent glass is so incredibly versatile. You can have a piece of clear float glass custom cut to fit with an existing table base. Anything from vibrantly colored pottery or a metal table to natural wood. You can even have glass cut to the right size to fit. With a custom-made table base or to neatly cover an existing table surface.
The beauty of using a clear glass top is that it will bring the eye to the table base, and provide a functional (and flawlessly beautiful) surface, without making your space feel cramped or overstyled.
Consider Toughened Glass for Your Table
Unless your table is ridged and the glass is neatly set within the table structure, it's always smart to have your table top cut from toughened safety glass.
Toughened glass undergoes special thermal and/or chemical treatments during the manufacturing process. As a result, the glass has different properties than standard glass. Toughened glass is much stronger so it is extremely difficult to break.
Known as safety glass, its properties cause it to hold together and 'web' into cracks, rather than breaking into shards, if it is ever exposed to enough force. This means, you not only get to enjoy a gorgeous table with custom-cut toughened glass. But you will also enjoy peace of mind.
Have Your Table Glass Professionally Measured
You can have your glass table top specially cut and sent to your home or business – Economy Glass delivers anywhere in the western suburbs of Melbourne with a convenient three to five-day turnaround time.
You may also want to have a professional come out to your property to take accurate measurements for your table, which Economy Glass can do as well. There's a huge advantage to having an expert measure your table.
With the right tools, such as a laser for measuring, and a working knowledge of how glass tabletops are cut and sized, an experienced glazier will be able to take precise dimensions. This means your tabletop will be cut accurately to the millimeter.
There's one thing you don't want to do.
That is to order a piece of quality glass, cut to size based on the existing table's manufacturer's specifications. Or your own measurements, only to find out the dimensions are off. Especially if you are placing the glass surface over another table surface, such as a wooden table. A slight discrepancy in size can ruin the fluid perfection that a well-cut glass tabletop should provide.
With guaranteed, to-the-millimeter precision, you'll enjoy a perfect fit as your glass surface will be elegantly balanced both visually and physically.
Have Your Glass Tabletop Cut and Polished Together
For optimal results, you should have your glass tabletops cut at the same location it will be polished. This way, your glass isn't being moved from one studio or warehouse space to another.
Also, the same glaziers who took your table measurements. And who understand your design vision and expectations will be in charge of each stage of the process.
You can feel confident that your table top is going to look flawless. When you have one company managing the professional cut as well as the polishing and edging. This is key to getting exactly what you want.
With glass, you can do almost anything with your table.