Read Our Custom Glass Table Tops Benefits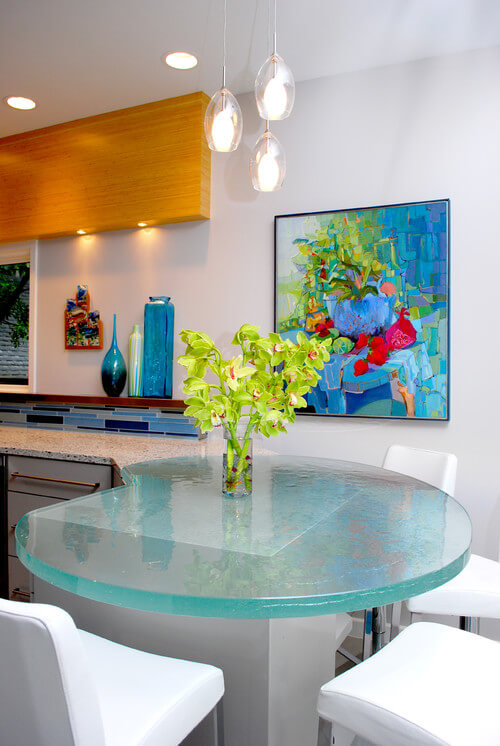 Why are more and more design and building experts recommending custom glass table tops to their clients today?
Glass isn't just aesthetically pleasing. It's also one of the most functional materials to use in modern living and office spaces.
Always elegant, no matter what style of the room, the timeless quality of the glass makes it an ideal glass table tops material. With almost effortless maintenance, design versatility and the peace of mind that it will look brand new for years beyond when other materials age, no wonder glass is increasingly being used for the surfaces we eat, cook and stack our favourite books and home decorations on – and just to relish the visual appeal.
With custom glass, cut and finished to your exact size needs and preferences, your tabletops, countertops and more can take on a whole new level of sophistication – and practicality. So, Take a look at all the benefits of custom glass table tops surfaces.
Glass Is Easy to Maintain
One of the strongest arguments for glass, in a variety of applications for luxury homes and commercial spaces, is easy maintenance. Where wood, cork, stone and that sleek white PVC mid-century table base will stain, and metals will attract dust and require regular waxing to retain their sheen, glass is resistant and impervious to almost everything. 
The overwhelming majority of table top choices are vulnerable to slow deterioration from the elements, general wear and tear and common marks and stains, like cup rings, dents and scratches.
Glass isn't. It won't stain or deteriorate.
With high-quality custom glass table tops, you'd have to take a hammer to it to get it to crack. And, the best feature of all?
It's one of the easiest materials to keep flawlessly clean. A cloth and a basic glass cleaner are all you need. Spray and wipe for that gorgeous, crystalline finish.
No waxing needed. No refinishing to refresh the look of your glass surface. And No harsh chemicals to try and remove stains that have sunk into a porous surface.
Glass Table Tops Offer Longevity
Your beautiful glass table can last for years, and then some. If you've ever walked through a museum featuring glass relics from the Roman era, you'll notice, despite being a millennium-and-a-half old, a lot of the glass plates, perfume bottles, drinking cups, vases and other pieces are left completely intact. That's because glass is one of the most difficult materials to corrode.
You can have a custom glass table made for your home or office, and then pass it down to the next generation, looking as if it were made yesterday. This longevity adds value to your table. It also gives you the confidence that your custom-made glass furniture is worth every penny.
Glass Will Protect Your Other More Vulnerable Materials
A surprising benefit you may not realise until you have your glass table top sitting in your home for a few months – the material beneath your glass somewhat protected. The glass will shield the wood, stone, plastic or other material from spills, stains and even some dust accumulation, helping your expensive oak furniture, copper, iron or whatever else your table manufacturer from, remain in better condition than it would be without the protection of glass.
With a clear surface, a glass top will also allow your table base material to stand out. If you have ornately crafted, colourful or other eye-catching bases, glass is the perfect compliment to direct the eye where you want it to go.
Your Glass Table Is Sustainable
A unique advantage of glass furniture and architectural pieces, in general, is that glass is one of the most eco-friendly materials you can use. Your tabletop didn't use up natural resources like wood or stone, nor is it a petroleum-based product, like most synthetic tables and counters are. It made from silica, in sand form, which is melted to a liquid, shaped and cooled.
Glass does take energy to manufacture as it has to heat to a very high temperature.
However, once it's made it can repurpose into new applications over and over again. Not that your stunning custom table top won't still be intact beyond your lifetime. But, with glass being one of the most flexible materials to reuse, it is one of the most sustainable options we have for building and interior design.
Glass Surfaces Open Up Small Spaces
For small breakfast nooks or cosy dens, a glass table top will help to open up your space. Because glass is translucent, allowing light to pass through, it serves as a functional piece without taking up 'visual space.' Pair with plenty of light and fresh, natural colours. And your glass table will turn a tiny room into an airy, welcoming environment.
Glass Table Tops Offer Aesthetic Freedom
Because of the clarity, purity, and the 'virgin' quality of glass, it looks appealing with any design style. This gives you the freedom to change the colour and overall ambience of your space. No matter what you do in the area around it, the glass will always look perfect.
Glass isn't stylistically confined like other furniture materials are. Modern, Victorian, industrial or Mediterranean – your glass table will always suit its environment.
With custom table tops, you can also enjoy unique, endlessly-versatile features that perfectly fit within and enhance your home. An experienced glass company will come to your home to take precise measurements. They'll work with you if you have a particular shape or size in mind. You can also customise the edges, with a polished edge for a clean look. Or a more intricate beveled finish if you want your glass table to have more personality.
Whether you're looking for a glass top for your kitchen island, your dining room table, an elegant coffee table or an end table, custom glass table tops can help you achieve the character and aesthetic you want, whilst also providing you with a high-value, hard-wearing piece of furniture.