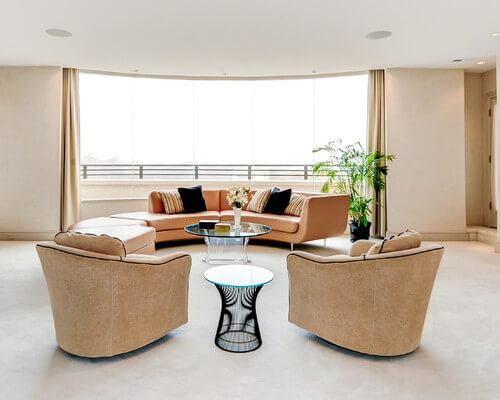 From the modern dining room table to a stunning piece of outdoor furniture, with a round glass table top, there is more than one thing you can count on. You're going to love the look, longevity and easy maintenance of your table – now and years in the future.
With a versatile aesthetic and a sense of refinement that never fades, glass is a popular choice for table tops. A round shape is often favoured for glass table tops, from the elegant living room coffee table to the perfect table for your sunny breakfast nook, for its soft ambience and ability to blend well with other textures, shapes and architectural features.
To get the most from your table top, whether you are looking for a new, custom-cut round glass top for your dining table or replacement glass for an existing table in your home, take a look at these industry insights into the iconic round glass table for your home in Melbourne, Victoria.
1. Measuring for Your Round Glass Top
The first step to getting the beautifully cut and polished glass that you want is, to begin with, precise measurements. In general, table tops are measured in relation to the table base or surface they will be going on.
If you aren't sure how to measure your table to determine the right diameter or aren't comfortable with taking precise measurements, ask a glass and glazing company to come in and take the dimensions for you. They'll use a laser to determine the right size down to the millimetre. This means your finished top will be cut to size to the same level of accuracy.
2. Round Table Tops Are CNC Cut and Polished
With a square or rectangle glass table, it's possible to do a manual cut. With shaped glass, such as a round or oval glass top, a glazing company will use a CNC machine to do the cutting. CNC stands for computer numerical control. It essentially utilises computer programming to get a flawless custom cut and gorgeous, polished finish.
Your glass will be templated, scanned and then cut to size and polished using advanced digital technology. This yields a greater level of accuracy and a higher quality product.
3. Shaped Glass Takes Time
Because of this need for high-tech machinery, expect your round table top to take some time and to cost more than a standard cut. At Economy Glass, round glass tops for dining, living room and kitchen tables are a frequent request.
With approximately five to seven days of lead time to create the digital template and to complete both the CNC cut and polish. So, We are usually able to finish a custom project in a timely manner.
4. Ordering a Round Glass Table Top Replacement
What if you are ordering a replacement piece for a table you already have?
You can take the measurements of the existing glass you want to replace and use those for the new piece of glass. However, again, if you aren't yourself a builder, designer. Or an experienced DIY-er who is comfortable taking precise measurements, don't hesitate to ask for professional help.
After all, you want your finished round glass top to perfectly fit on your table. Depending on the style and shape, being a few millimetres off can diminish the usual pristine aesthetic that glass typically offers.
5. The Right Glass Will Last a Lifetime
With the right measurements and by working with a glass and glazing company that uses the proper machinery to create the beautiful custom cut and polish you have envisioned, you'll enjoy a timeless piece of furniture for decades.
Not only will it be a functional, hardwearing table top. But, it will also double as a stunning design element for any room in your home. Or even for your outdoor living area.