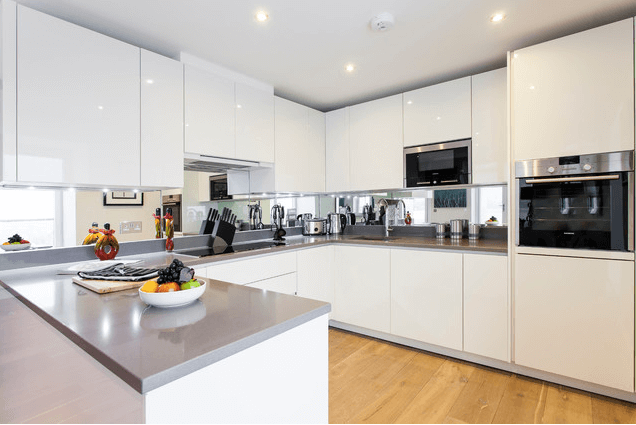 Both versatile and elegant, mirror glass is one of the best design mediums for enhancing an interior with a attractive aesthetic.
Whether you are working with modern contemporary or an ornately styled home, bespoke mirrors can be made to seamlessly complement your design vision.
With the flawless clarity of high quality glass, it is possible to cut, finish and shape glass any way you'd like to give your interior an enchanting focal point. By reflecting light, your mirror will increase the light in your home, create the perception of greater space, and you can have your glass customised to create unique optical effects.
Mirrors aren't just for appearance. They have the power to subtly transform your home's ambience. Here are some inspiring ideas to show you how far-reaching the limits of reflective glass are for luxury homes.
1. Bathroom Mirror Design Ideas
Mirrors are an essential part of bathroom design. Whilst the traditional framed rectangular shaped glass looks fitting in any interior, it is a tailored glass design that can elevate a bathroom. Often thought of as the sanctuary of the home, the bathroom space works well with a range of mirror styles.
For the modern home, frameless glass is a popular choice. Frameless glass manufactured with the most advanced manufacturing techniques yields a remarkable clarity. Depending on the rest of your bathroom's design, you may want to think outside of the classic rectangular mirror.
For a softer feel, circular frameless glass is incredibly appealing. Lights can also be installed behind the round shape for an elegantly luminous look.
In this sunlit bathroom, the frameless glass mirrors are designed to fit over the windows, creating a point of architectural interest, whilst also being highly functional. There is enough space behind the mirrors to open or close the window shades, allowing the perfect amount of light in. 
2. Wardrobe and Room Border Glass Ideas
Mirror glass installed on hinge doors always looks exquisite whilst also providing a reflective surface for dressing. Clear, frameless glass serves as a beautiful cover piece for an otherwise unadorned wooden wardrobe or closet door surface. Combine glass cloaked hinged doors with transparent glass for a distinctive wardrobe design.
Mirrors can also be used for fabricating luxurious sliding doors. Glass doors can be used for wardrobes, to separate closet space or to create an enchanting border between other areas of your home.
The result is a timeless look that is easy to design around, and easy to clean. You can opt for customised glass doors for an original style. Frosted glass makes a stunning border between two spaces. Combine with a reflective mirrored surface for even more intrigue.
3. Use Glass to Redirect Light
Light has the power to facilitate just the right ambience. You can use custom designed mirrors to reflect different types of light to create a warm, rich illumination. Traditionally, a large mirror is placed on a living room wall opposite window glass to redirect the natural light that enters the space.
However, a well-crafted mirror can do so much more, using interior lighting, sunlight and even the radiant glow from a living room fireplace.
You can also use mirror glass to redirect colour. Bold, vibrant interiors can make a space feel less open. With reflective glass, however, you can use your crimson, magenta and emerald hues and use glass to open up your space. For even greater visual interest, you can even use colour on parts of the glass.
4. Mirrored Splashbacks
More and more luxury homeowners are turning to glass splashbacks for their tasteful appeal as well as their functionality. Glass is easy to clean, mould resistant and more durable than other materials. With mirrored splashbacks and back panels, you can do almost anything.
In the kitchen, a mirrored splashback will increase light and depth while also serving as an easy-to-clean surface. No more worrying about grease and tomato sauce stains working their way into your tiled backsplash. For an even greater luxury appeal, install feature lights directly above the mirrored glass.
5. Luxury Glass Wall Panels
Want to add a sense of drama to your West melbourne home?
Consider glass wall panels.
The fantastic thing about mirrored walls is that you can do almost anything to create a design that perfectly aligns with your interior space.
For example, combine a high polish finish with opaque sandblasted glass for a dynamic look.
Textured glass can create the impact you want, whether you want a rough texture to stand up to the rich colours and sharp lines of your interior, or a more flowing look for a softer, delicately designed space.
An experienced glazier can create different designs into your glass, turning your mirrored wall panels into original works of art.
Glass wall panels are excellent in living room and great room spaces, but they can also be used to make smaller spaces, such as entrance ways, hallways and bathrooms, appear much larger.
6. Reflective Home Office Space
Open up your home office with a sheet of customised frameless glass. The reflective surface will help to bring in more light and open up the space, creating a more peaceful, inviting environment.
Stick with a traditional cut or opt for a more interesting optical effect with bevelled edges. Cover part of the space or go for a floor to ceiling mirror.
Glass is luxurious, whilst also being practical. It opens up any space, illuminates, creates drama and adds warmth. It is also completely customisable, whether you want a coloured or sandblasted design for an original piece of art in your home or if you want unconventional cuts and finishes.
When you work with glaziers who are passionate about the art and function of mirror glass, you can make your vision a reality, enhancing your home with timeless, original beauty.