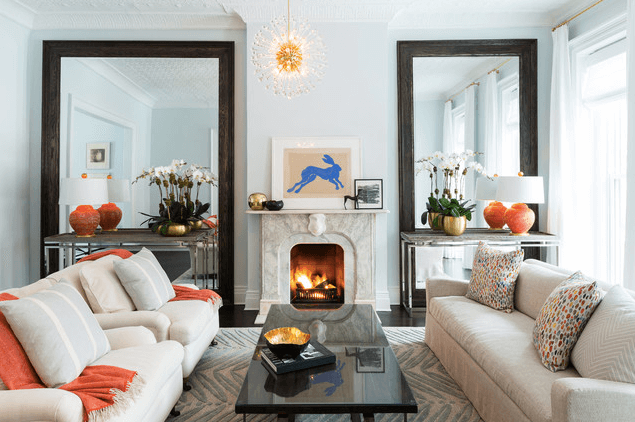 Having a custom mirror installed in your home can totally transform your space – as long as you have your mirror cut to size.
In the western suburbs of Melbourne custom mirror glass is often used as a unique architectural element, designed to fit within, compliment, or reflect other dimensions in your home, from either the space itself or other pieces, such as countertops, cabinets, a fireplace, a dining table or windows.
Being a few millimeters off can change how the mirror looks when it is installed. In some cases, it can also make the installation itself a challenge – or even impossible unless the glass is recut.
The fantastic thing about mirror glass, especially frameless glass, is that it can create remarkable aesthetic effects, depending on where and how it is positioned and how it interacts with other aspects of a space.
For example;
In this bathroom, the mirror fits seamlessly with the countertop, acting as a virtual extension of it.
In this living room, the wall-sized glass mirrors create a dramatic effect in an otherwise calm space, with soft, warm colors and plenty of rounded décor pieces. They are sized perfectly, giving the beautiful crown molding and ceiling design enough room to be seen, yet they are large enough to double the space of this otherwise tight room.
When your mirror is cut exactly to size, it can offer so much more to your home than just an attractive reflective surface. With a design element as powerful as mirror glass, the precise measurements, placement, and shape are what is used to tell the story of the space.
Instead of worrying that your made-to-measure mirror isn't cut the way you – and your design constraints – need it to be, use these tricks to ensure your mirror glass is cut flawlessly.
1. Laser Measure Your Space
If your mirror needs to be installed by a professional. This is generally the case with custom mirrors as you want your glass to be mounted. And set in place correctly to avoid problems like poor positioning and improper glue usage. Your best bet is to invite them to your home to take the measurements for you.
Any experienced glazier will take laser measurements, which are more accurate than tape measure dimensions. And, they'll know exactly how to assess your space based on the characteristics of your architecture (for example, how curves, crown molding, and other details of your architecture may impact how your mirror should be sized).
They can do this because they'll have had plenty of experience with different made-to-measure scenarios.
2. Hire a Glass Professional for a Professional Cut
When a licensed glazier is tasked with cutting your mirror glass, they will also laser measure and cut to size your mirror. This way, you're guaranteed your glass will be cut to the exact size and shape, down to the nearest millimeter.
When you have a glass professional do this instead of, for example, ordering a certain size or shape online. From a factory warehouse or from a store. You are passing on any liability to the glass professional who has done both the measuring and the cutting.
If your custom-cut mirror glass doesn't properly fit the space when it is installed. Then they'll remedy your glass for you at no cost. If you took the measurements and asked for dimensions that aren't quite right. You may be stuck with the costs of having the glass recut.
3. Work with Glaziers that Have Glass and Mirror Cutting Experience
With custom-cut mirror glass, you can get virtually any dimensions you want. It's possible to create the perfect size or even cut a shape from a square of glass.
If a glass company tells you your cut isn't possible or your expectations are too high, it may be because they don't have the skill and experience to create the customized shape you want.
Keep in mind with glaziers who have been working with architectural glass for years. What can be done is only limited by your imagination. Shape, size, finishes and even different colored glass. Your mirror can be cut to size and tailored to seamlessly suit your vision.