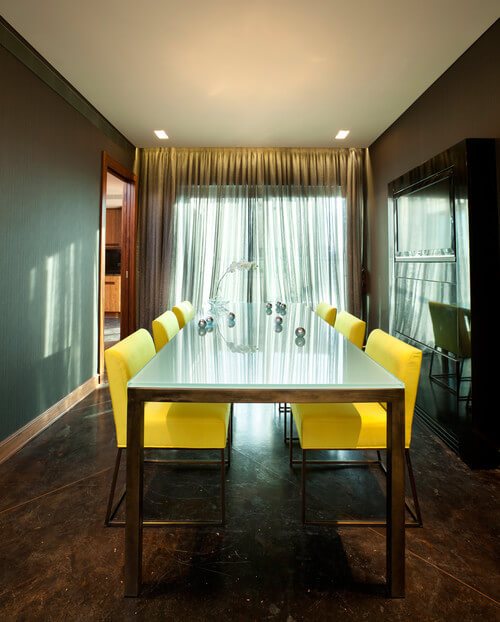 Wondering what glass table top price range to expect when you purchase a custom glass for your table? 
Adding a sleek, modern aesthetic to your dining room, kitchen, living room or other space, whilst also serving to protect the table underneath from dust, liquid damage and stains, glass is becoming a popular tabletop material in West Melbourne homes.
Considering the longevity you'll enjoy from a piece of high-quality glass – the well-maintained glass will appear flawless decades after other materials like timber, metal and composites start to show their age – offer superior value. Still, you don't want to overpay because you're not familiar with the price range or what goes into the cost.
Here's a comprehensive look at what goes into the price of a glass table top to help you make a better-informed decision about your glass purchase.
How Glass Size and Shape Impact Cost
Glass size does matter, although not as much as other factors that have to do with how the glass is manufactured and what steps are involved in creating your custom table top. A larger piece of glass will naturally be more expensive than a smaller piece.
A tabletop that is cut out of a piece of rectangular glass to create a specific shape, such as a round glass table top, will cost more and it will take longer to produce. This is because there is a lot involved in the process of creating a shaped table top.
The shape and exact dimensions need to be templated, scanned and then cut and polished with a CNC (Computer Numerical Control) machine. As a result, you'll get a perfect shape and gorgeous finish, but it will cost slightly more than a standard square or rectangle table top.
Tempered Glass Table Top Price
Aside from the size and shape you want for your tabletop, the next most important feature is strength. Tempered glass, also known as toughened glass, is about four times stronger than standard glass. It goes through special thermal processing during manufacturing, or in some cases chemical tempering, to make the glass more resistant to pressure.
It's less likely to break. But, because of the more complex manufacturing process, it also costs more. To get an idea of the price, a piece of 2000 x 1000 clear float glass with polished edges, 6mm thick and delivered to your home, will cost about $330. This price includes GST.
For the same size, thickness, and polish, a piece of toughened safety glass will cost approximately $490, including GST.
Choosing toughened or standard glass for your tabletop is probably the factor that will have the biggest impact on price. The question is, do you need tempered glass for added safety?
As a general rule, with float glass that is sitting directly on an existing table, you probably don't need to use toughened glass. Quality standard glass isn't going to break or crack from normal wear and tear, even with a well-used family dining room table.
If your glass is being set over top of a central base or needs to be balanced atop a unique table shape, it's safer to use a stronger piece of glass in case the table top is ever knocked off balance and falls. This still isn't likely as a table is a heavy, durable material but using toughened glass can be a smart precautionary measure. It will also give you peace of mind.
How Colour and Finish Impact Glass Price
Clear glass is the most popular option as it offers a timeless appeal that can pair well with any style of interior design. It's also the least expensive option. Tinted glass, such as a grey tint or bronze colour, or frosted glass, can give your glass table an attractive and unique appearance, but glass colour will increase the price of your tabletop.
The finish on your glass table top can also affect the price. The most common finish a traditional polished finish. If you want something more intricate, a bevelled finish will increase the price of your tabletop.
Getting a Glass Table Top with Excellent Value
Glass offers so many different design possibilities, from the understated elegance of clear glass to unique custom pieces. That create a focal point in your home in West Melbourne.
With a glass table top, decide what you want regarding size, shape, colour and finish. And then you can discuss your desired features with the glass professionals.