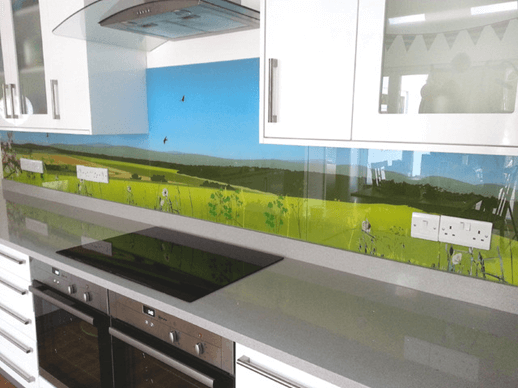 A glass kitchen splashback is ideal for helping transform your kitchen and home with a great combination of both elegance and beauty.
Glass splashbacks and panels are available in almost any colour you could desire and are cut specifically to suit the needs of each customer.
Painted Glass Splashbacks require very little maintenance and out lasts most other architectural features. Due to its non-porous nature, glass does not stain, is easy to clean and does not harbor germs or bacteria – as many other materials do.
Glass splashbacks are an incredibly versatile product and can be used as a feature on any interior walls , especially in kitchens or as an alternative to the traditional tile option in bathrooms. Most commonly being produced using 6mm toughened safety glass, this ensures the glass is extremely robust and safe, resisting impact breakages and thermal stresses caused by high heat.
Splashbacks give a beautiful and easily customised look to the space. There are many options that can help you standout with a wide range of colours, textures and even graphically printed images. Each panel of glass is fabricated to the finest tolerances using highly accurate CNC machinery and painted using automated paint booths. This ensures the highest quality finish every time.