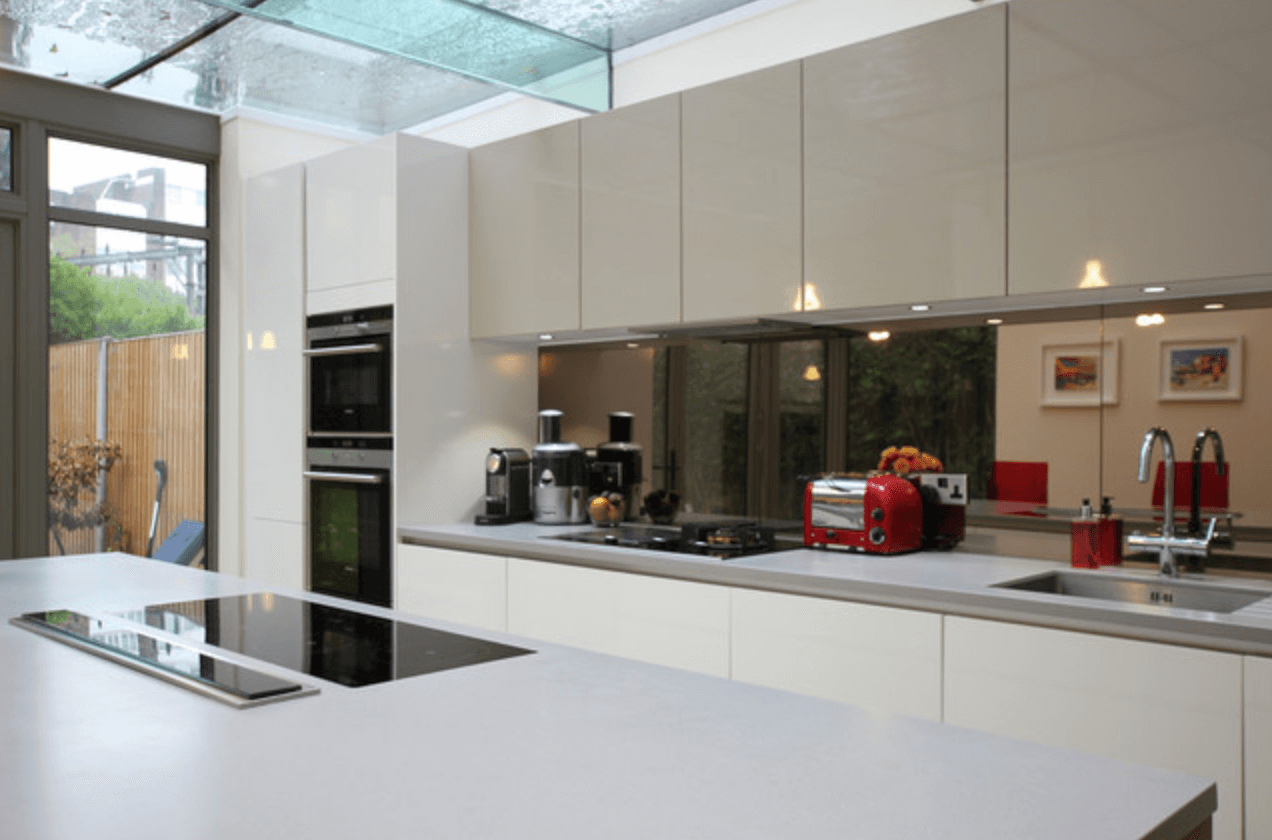 Appealing mirror glass has the power to transform a room from having a standard design to stunning.
This is why it's essential you work with the right mirror & glass shop to ensure your glass is capable of achieving the look you have envisioned.
In fact, experienced glaziers who specialize in sourcing, cutting, finishing, and setting luxury glass will likely exceed your expectations, providing you with a quality, customized mirror that adds an exquisite new dimension to your interior design.
When searching for the right mirror & glass shop, one with the experience and industry-leading tools, as well as dedication to the craft, there are several traits you should look for. Find a mirror & glass shop that possesses all of these characteristics and you are in for a treat.
You'll experience just how much brilliance superior craftsmanship can bring to your home.
A mirror shop you can trust will:
Use Lasers to Measure the Glass
With today's advancements in technology, there's only one true way to measure glass. Lasers are capable of a millimeter accuracy. Gives you the confidence that your mirror will be cut to the exact specifications.
Yet, in practice, not all glass & mirror shops use lasers all the time or even some of the time. Measuring with lasers at your home. When taking dimensions for your mirror, and in the shop when custom-cutting the glass, is the only way to guarantee precision.
Even with a mirror that will be framed, it should be cut to the perfect size and shape to fit with the frame supplied by a professional joiner or picture framer.
Come to Your Home to Take Dimensions
If you can call up a glass & mirror shop, order a particular size and have it brought over to be installed, hang up the phone. Glaziers with experience will want to come to your property to take their own measurements for the space you'd like to use.
Especially for mirror glass that will go into tiling, an alcove, or any other situation where it won't go into a frame, it is necessary for them to come out to get accurate dimensions.
At Economy Glass, we want every project to appear flawless, which is why we prefer to come out to your property to get the measurements whenever we are supplying or installing the glass.
Are Equipped to Finish the Edges of Your Mirror Glass In-House
A lot of mirror & glass shop won't actually finish the edges in-house. They don't have the right machines so they have the glass manufacturer do it or outsource to another business that has the capabilities.
This means you have no control over who is finishing the mirror. If it is performed at a large manufacturer's warehouse, rather than a professional craftsman's shop, you may have to lower your expectations as to the quality of the work.
You want to use a provider that not only finishes the glass in-house. With the proper machinery but also offers you different edging options. An expert glazier will be able to create more intricate finishes. Which can result in beautiful effects when light bounces off the surface.
Talk to your glazier to find out what techniques and artistry they can offer you.
Will Provide Mounting Options
There is no one best way to mount mirror & glass shop. The appropriate mounting option depends on the weight and dimensions. The area the glass will be mounted on, and your personal preferences. Make sure the company you hire offers, and consults with you about, different mounting options.
For example, using glue fixed to the wall allows the glass to lie flat. A standoff bracket, on the other hand, creates a shadow line behind the mirror. If you want to use backlighting, this shadow line can offer an attractive contrasting detail.
A professional glazier will be able to talk to you about how the way your mirror is mounted will impact the aesthetic of your room.
Offer Different Glass Colours
You also want to be able to choose between different colours for your mirror glass. High-quality glass will offer a gorgeous reflection in any color. Depending on the décor in your West Melbourne home, your interior design may be better served with a luminous white. A soft glimmering champagne hue, or a cool grey, green or blue.
Whilst crystal clear transparent glass is often a perfect choice. You can also use colour to add a truly unique look to your home. Consider the colors, textures, and ambiance you already have. And use that to inspire what you want out of your mirror glass.
Ensure You Are Part of the Process
The possibilities are endless when you find the right mirror & glass shop. The classic sign of expert glaziers is that they will invite you into the process. They'll value your vision, and then will work their magic to make it come to life.
When you do your job, looking for a professional mirror & glass shop that has the right machinery, advanced processes, skill, and passion, your glaziers will do their part, providing you with a custom-made luxury mirror that you will adore.