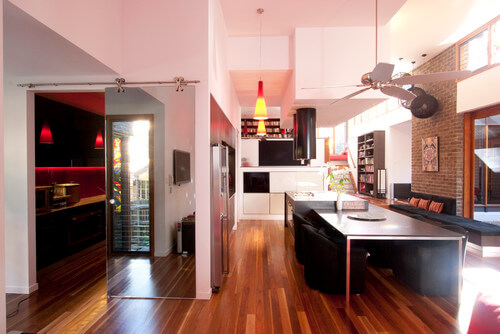 Mounting a custom door mirror on the door of your wardrobe, bathroom, bedroom, home office or any other doors in your home can have a transformative effect on your living space.
Often, using the full size of your hinged or sliding doors, the large dimensions of door mirrors create the perception of increased depth, opening up the space of a room in a dramatic way.
This also has the effect of enhancing the amount of light in the room and lets you manipulate light in such a way to help bring out other design elements like artwork, indoor plants, and architectural features you may have in your home.
Take a look at all the different design possibilities of glass door mirrors. When you work with an experienced glass company, you can achieve the aesthetic results you desire, whilst respecting and complimenting the structural and architectural characteristics of your home.
Frameless Door Mirror Ideas
When putting up mirror glass on a door, frameless glass can be used to create a sleek, timeless look. It's possible to have the glass measured and cut to cover the entire surface area of the door or multiple doors. This can create a cloaking effect, making it look as if the door isn't there.
Frameless glass can also customize to create unique design results. Alternate panels of frameless mirror glass with natural wood or other types of glass, such as frosted or colored glass. For more ornate interior design styles like art deco or Victorian, install a frameless mirror with eye-catching faceted edges.
Some professional glaziers will even be able to create customized finishes for your door mirror, whether you want a smooth, polished edge or intricate bevelled edges.    
Where to Install a Door Mirror
You can mount a full-door mirror almost anywhere you want. Traditionally, homeowners favor wardrobe door mirror glass as the reflective surface has a functional purpose as well as being attractive. A popular choice is to have a mirror covering the wardrobe doors within the bedroom.
Custom mirror glass can also be used in walk-in closet spaces or separate dressing areas, covering doors as well as other spaces such as drawers and alcoves to create a mesmerizing, fluid-like effect.
For the same functional reasons, door mirrors are appealing on bathroom doors, either the entrance door or a bathroom closet door. Not only does it provide a surface for checking one's appearance, it will also increase the perceived space of a smaller bathroom.
You're not limited to bathrooms and wardrobes, however. Anywhere you want to increase light and dimension, or if you have a door you'd like to highlight with the beauty of architectural glass, you can mount a door-sized mirror including:
Study or home office doors;

Behind the front door or behind your bedroom door;

On sliding glass doors leading outside; and

Double doors lead to a living or dining room space.
Types of Doors That Work with Mirror Glass
Mirror glass can mount on hinge doors, within any room of the house. Using custom-cut pieces of frameless glass. You can cover the entire door surface or part of it, depending on what will look ideal in your home.
You can also adorn sliding glass doors with mirror glass. This can create an interesting visual effect as the glass moves when the doors slide open or shut. With frameless glass, it's also possible to make the wardrobe doors appear as if they are a wall of glass, rather than a set of doors.
Achieving Great Results with Your Glass
With a custom door mirror, it's important to be careful in choosing the size of the glass. To ensure the finished results look fantastic. This last thing you want to do invest in a beautiful door-sized mirror that doesn't look quite right once it's mounted on the door.
It's also important to be aware of the weight of the glass in relation to the surface it will be mounted on. Hollow doors, for example, aren't strong enough to hold up a full-size mirror with traditional mounting screws. Heavy mirrors may not be appropriate for different types of doors. By using an over-the-door hanging device, for example, the weight of the glass can cause the door to sag on its hinges.
It's important to have precise dimensions taken and to have your space evaluated to determine what dimensions and weight your custom door glass should be. When Economy Glass professionals work on a custom glass project, we always visit the site to take laser measurements.
That way we know we have accurate, millimeter measurements of the door. As well as the size of the access space and relevant dimensions of the room.
Once the custom door mirror cut to its exact size. We visit the site again to complete the installation. The advantage of relying on professional glaziers to take measurements. And mount the glass is that you don't have to worry about any issues such as improper installation. Or using a glass that will, over time, put too much pressure on your doors. You'll also be able to get a perfect fit. With your mirror glass mounted correctly over your door.
Another consideration is glass quality. As with glass shower screens and doors, door mirrors should be of premium quality. This is because door mirrors are subject to more wear and tear than most wall mirrors. They're going to move around. And more vulnerable to impact. So they've got to be strong.
A custom door mirror, when cut, finished, and installed properly, is always a welcome addition to the home. Glass adds space and depth, as well as tremendous beauty to a space. In the case of door mirrors, you can also enjoy the functionality of having a large enough mirror to check your appearance. Positioned in such a way to become an aesthetic high-point of your home.