Are you thinking about using kitchen splashback panels in your open-plan living space? If so, it can be a little difficult to know what styles and colors are best to use when an area has different purposes.
Instead of leaving the backsplash to the end of your kitchen ideas, make a big design noise with deep veining, rustic tiles, or metallics.
There are plenty of things to consider – glass splashbacks in Melbourne need to be functional, cope with splashes and often be heat resistant if it's going up behind a cooker – but a little bit of thought can go a long way.
Add A Pop Of Color
Installing colored acrylic splashbacks in your kitchen or dining area is a cost-effective and easy way to add color to a neutral living space.
If your kitchen has white walls and white kitchen cabinets, you could opt for a blue kitchen splashback and then use matching accessories in the living space such as cushions and throws.
Keep It Clear
You don't always need to use color. There are many different types of glass splashbacks and upstands that you can install in your open-plan living space.
These can be placed over tiles on a kitchen wall, behind the cooker or to protect a feature wall. Ultimately, clear glass splashbacks in Melbourne are ideal for helping to preserve your existing decor.
Use Mirrors
One easy and simple way to create the illusion of larger living space is to use mirrored splashback panels.
This look works very well in a silver kitchen with stainless steel appliances and modern decor. Mirrored splashbacks also work well when paired with pendant lighting.
Create A Feature Wall
If you want to create a feature wall in your kitchen diner, why not use printed splashback tiles?
There are so many different patterns and images to choose from that will enable you to truly personalize your open-plan living space. Usually, there is also the option to create your own design.
If you would like to know more about using splashback tiles in your open-plan living space, we can help.
The best company offering glass splashbacks has a wide selection of stylish and affordable glass splashback tiles.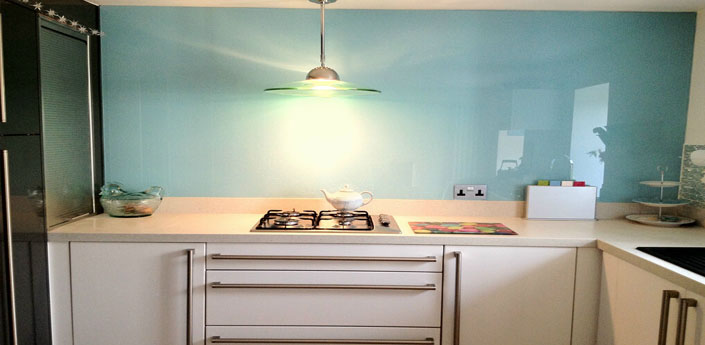 Things To Remember When Choosing Glass Splashbacks:
Type Of Glass
Glass splashbacks are typically 6mm toughened safety glass, which adheres to all Australian building standards.
Either clear glass is used, which has a natural green tint, which is good for strong dark colors, or light colored glass.
Glass eliminates the green tint and allows for more accurate color matching for light, warm colors. Mirrored splashbacks are being used in the kitchen more and more.
State-of-the-art, heat-resistant mirror is used in different shades, silver, smokey, or bronze. A mirrored splashback visually expands the space and can light up any room and is especially effective in smaller kitchens.
Cleaning Glass Splashback
Keeping your glass splashbacks in Melbourne clean couldn't be easier. Glass cleaner and a soft cloth or paper towel is all you'll need to keep it looking stunning for years to come.
Always consider the positioning of a splashback, what works behind the sink might not be the best material to use behind the hob.
Finally, don't forget to ask to borrow large samples of any material to see how they look in your kitchen. They'll look different at home when they're not under the lights of a showroom.