When it comes to kitchen colour, white is king.
It started back in the 1920s and 30s, when appliance companies didn't offer any colours besides white.
Since then, kitchen trends have come and gone, yet a strong presence of white has always ranked at the top of Melbourne's kitchen designers preferences.
There are many reasons for the white colour palette choice:
It provides the optical illusions of space and light, making it ideal for small spaces.

It is associated with the concepts of cleanliness, freshness and health.

It offers a clean palette, which enables designers to highlight other aspects of the space, such as the floors, light fixtures, benchtops or appliances.
Despite all these benefits, choosing a white colour palette for your kitchen also includes some stiff challenges.
Perhaps the biggest challenge is this: How do you make a white kitchen stand out in a stylish, timeless way that will appeal to buyers?
More and more, designers are answering this challenge by adding glass splashbacks to the kitchen design.
Pairing a white colour palette with a painted glass splashback accentuates all the benefits of a white kitchen, while adding a stand-out complement of colour and depth.
When you add in the durability and easy-cleaning of today's painted glass splashbacks, the combination is hard to beat.
Even so, there are many choices to consider. Quality glass splashbacks can accommodate any colour choice. The question then becomes: what colour should you pick?
In this article, we'll describe some of the best white kitchen glass splashback ideas to answer this question and inspire your next kitchen project.
1. Pairing with Stainless-Steel Appliances
In a recent Houzz Kitchen Trends survey of kitchen designers, a strong majority of respondents said:
The standard silver finish is the top colour choice for appliances.

They preferred white cabinets by a wide margin compared to the next closest colour.
Metallic glass splashback colours accent both trends very well; they match both the appliances and the white cabinets.
If you're looking for a way to add warmth and a splash of colour, vibrant yellows and reds are popular choices.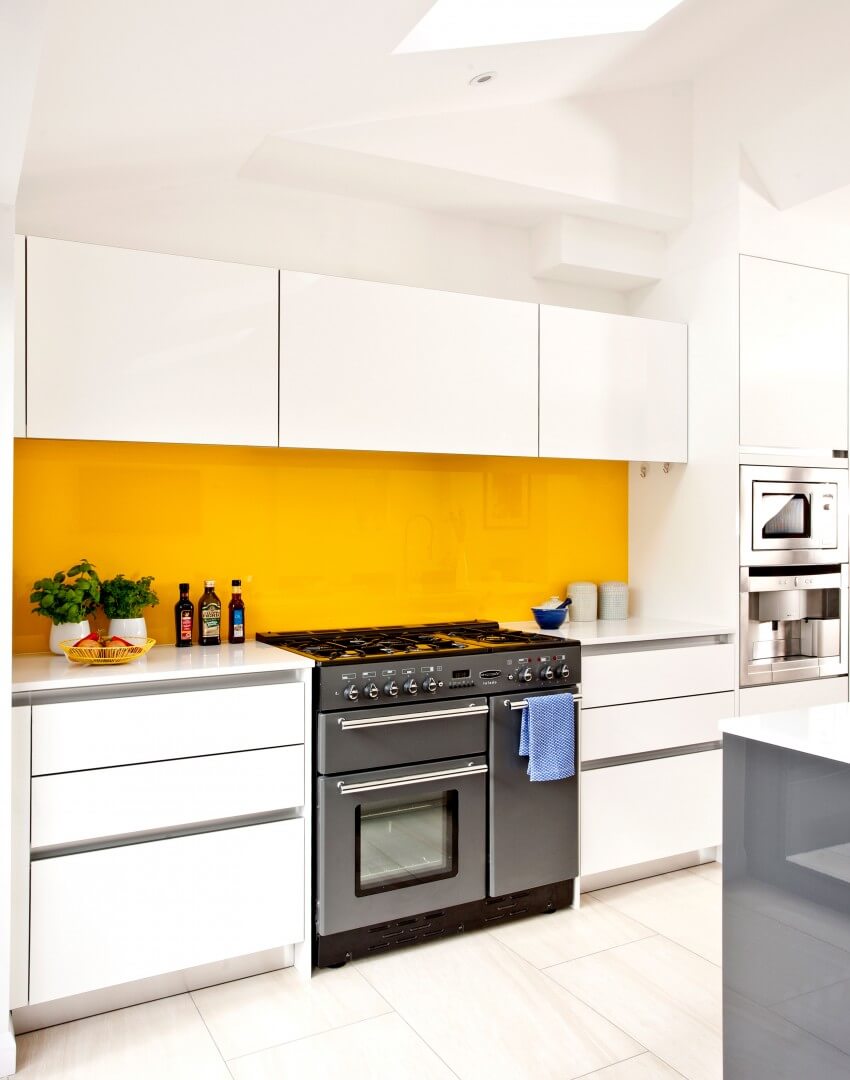 This pop of colour accents both the cabinets and the stainless-steel appliances while adding a needed point of interest to an otherwise bland palette.
2. Pairing with Benchtops
When making kitchen design choices, the benchtop is one of the best places to start.
This kitchen component takes up a good portion of the budget. It's also a key feature buyers look for when they tour homes.
For a long time, natural stone has been the most popular benchtop material choice.
Even in a kitchen with white cabinets and neutral floors, a natural stone benchtop made of marble or granite provides a visual anchor for the space.
A glass splashback painted with a neutral colour complements the natural stone benchtop look.
This also makes sense when considered with another 2017 Houzz kitchen trend: grey and beige were the two most-cited wall colours.
3. Pairing with Kitchen Floors
Bold, bright colours in the kitchen glass splashback can create a stunning visual contrast to stained wood floors.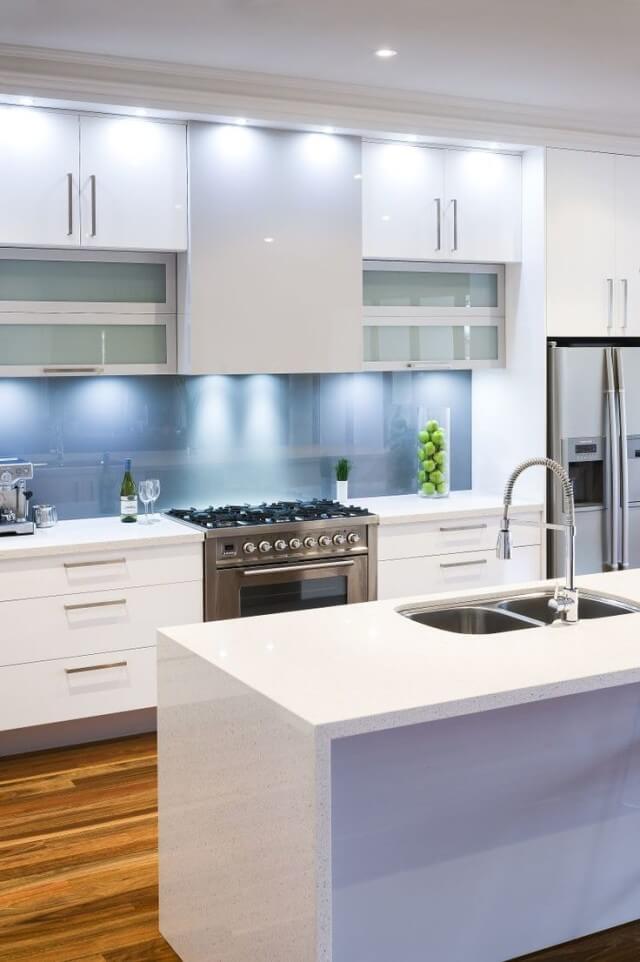 A lighter green or grey contrasts well with darker stains.
Or, if you have a truly white kitchen with white tile flooring, a bold colour in the splashback creates an appealing focal point behind the cooktop.
4. Matching Unique Fixtures
White kitchens with glass splashbacks have the benefit of versatility.
With the right colour glass, this setup can strategically highlight desired features.
For instance, you can highlight coloured lighting fixtures with a matching splashback colour.
5. Making A White Kitchen Pop With A Printed Glass Splashback
Sometimes, paint doesn't provide the level of customisation or personalisation a designer is looking for.
This often happens when the homeowner is designing the kitchen, they want a particular imprint on the space beyond colour.
A feature splashback solves this dilemma, and it's a trend that's gaining steam across Australia.
Whether you're a fan of beach scenes, gardening or show-stopping patterns, a printed glass splashback enables you to decorate your white kitchen to reflect your unique style and personality.
6. When to Avoid a Painted Glass Splashback in a White Kitchen
According to Houzz, designers rank white as the 3rd most-desired wall paint colour behind grey and beige. If you are committed to white kitchen walls, we don't encourage a glass splashback installation.
The tinting coming through the glass will make bright white splashbacks look pale blue against a white wall or white cabinetry.
Summary: Painted Glass Splashbacks Make White Kitchens Stand Out
Thanks to their reflective qualities and clean looks, painted glass splashbacks add a layer of depth and nuance to a selected paint colour.
At the same time, modern glazing techniques and the use of high-quality glass ensure that the selected colour palette won't suffer degradation or look differently than intended.
With designers continuing to choose a white colour palette for most luxury kitchens, the benefits of a glass splashback are magnified.
They continue the theme of cleanliness and health.

They allow for a strong focal point or a calm accent colour.

They will compliment stainless-steel appliances.

They can pair with other special features such as floors, light fixtures or benchtops.
How Economy Glass Can Help
Thanks to our staff of experts, we use the cutting edge of laser measuring technology to design your splashback project down to the closest millimetre.
Our fabricators use only the highest quality glass with low iron content, so you can be sure your paint choice will look exactly as you envision.
And thanks to our large warehouse with all necessary processing equipment onsite, we can ensure top-quality delivery with some of the shortest turnaround times in the industry.