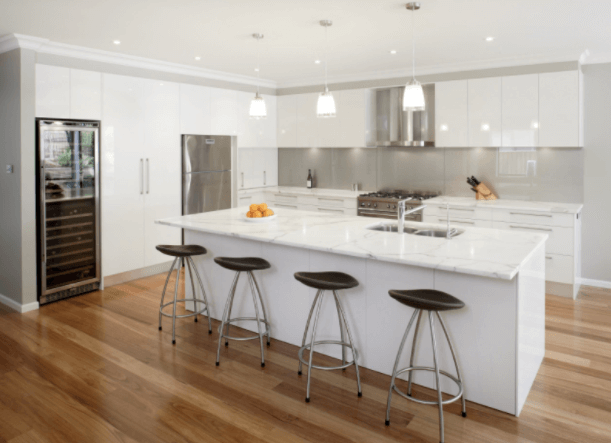 The faux finish trend is red hot in Melbourne.
In fact, here's what Elle Decor Magazine said when it included faux finishes as one of the 10 Home Trends that Will Shape Your House in 2017:
"Homeowners and designers are turning to faux materials for a budget-friendly and sometimes more reliable alternative to authentic materials."
Budget-friendly and reliable are two perfect descriptors for the metallic glass splashback.
Without having to find, purchase, shape and maintain a sheet of metal (imagine the polishing!), you can achieve the same contemporary look with a painted metallic glass splashback feature.
In this article, we'll analyse this design decision to show why and how metallic paints and glass splashbacks work so well together.
1. Spotlight Your Metal Accents
Metal accents are key to achieving stylish contemporary design.
These accents can take the form of major elements, such as worktops and appliances.
They can also take the form of smaller elements, such as:
Light fixtures

Cabinet hardware

Furniture pieces

Exposed shelving

Artwork
A metallic glass splashback can tie all these accent options together and amplify their effects.
In the image below, for example, the metallic silver glass splashback ties both the oven vent and the cabinet handles together.
This is an especially important point since stainless steel appliances are such a staple of a top-quality kitchen.
For instance, in a recent survey of kitchen designers and homeowners, a whopping 75% of the respondents said they were using stainless steel appliances when updating their kitchen.
This is a continuation of a long-running trend. It proves that a neutral kitchen colour palette, accented by stainless steel metal features, is a design choice that heightens style and resale value.
2.  Create a New Dimension for Light
A kitchen with a white colour palette is a contemporary design staple.
The challenge for a designer or home builder, however, is: "How do I make a white kitchen stand out?"
A sparkle glass splashback can be the perfect solution. This metallic effect enables light to shimmer off the splashback in completely unique ways. As a result, a generic white kitchen can become a memorable, distinctive feature of the home.
3.  Pair with Textured Glass
Beyond the pearled and sparkled effects, there are several glass manufacturing techniques that can make a metallic glass splashback appear hand-crafted.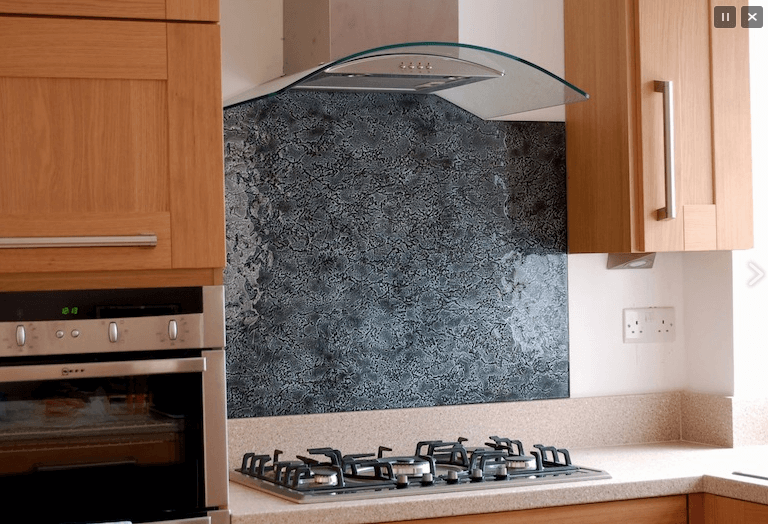 This creates an eye-catching focal point for the kitchen or bathroom that reflects light from windows, doors and even backlighting in distinctive ways.
The textures are created during the manufacturing process. They can be lines, waves, geometric shapes or natural random patterns.
Metallic paint enhances these patterns and creates the appearance of customized precious metal. The result is a stunning statement piece, perfect for modern interiors.
4.  Electrify Neutral Colours
Even if the palette isn't dominated by white, contemporary kitchens make strong use of neutral colours such as brown, taupe and cream.
As it happens, the range of metallic glass splashback colours complements this palette exceptionally well by adding touches of luxury and glimmering metal to the splashback wall.
Economy Glass uses premium Dulux paints. The colours included Dulux's pre-mixed, ready-to-apply Metallic Effects paint range include:
Neutral Intrigue

Thebe Touch

Pewter Illusion

Metro Mars

Moving Image

Stellar Glow

Silken Chocolate

Tempered Bronze

Chocolate Glimmer

Pluto Pulse

Silver Spoon

Metal Icon

Steel Shimmer

Prestige Shine
By adding some texture to the paint application, you can create a splashback that acts as a kitchen centrepiece that is full of light, metallic colour and depth.
5.  Add a Metallic Sheen to Any Colour
A metallic effect can be added to any splashback paint colour using a 2-step process.
First, the metallic finish gets applied to the glass.
Secondly, the selected colour is painted on top of the finish to achieve the desired effect.
Many clients use this process to add a metallic sheen to a bright pop of colour behind the oven hob or above the worktop.
Summary: Metallic Colours Combine with Glass Splashbacks for a Striking Combination
With their richness, brightness, strength and solidity, metallic accents sharpen a home's contemporary design.
Metal is also a great choice for a splashback material, since it's durable and stunning.
Yet there are several drawbacks to a metal splashback. They require polishing and maintenance. They're difficult to find and shape. Most importantly: they're often cost prohibitive.
The faux finish of a metallic glass splashback, however, gives you all of the benefits with none of the drawbacks.
They're durable and represent a lavish element of contemporary design.
At the same time, they're easy to clean. They can also be measured down to the nearest millimetre.
And best of all: they can replicate the stunning effect of valuable metals without incurring the high cost.
The Economy Glass Advantage
Too often, designers will select a paint colour in the studio or at the work site, only to find the final version looks different than what they had envisioned.
Economy Glass is committed to avoiding this building and design headache.
By using the highest quality glass, we ensure the selected colour shines through every time.
In addition, our team of experts uses the latest laser measuring technologies to ensure the toughened glass fits every project perfectly.
Most openings provided by even the best builders and cabinet makers have a degree of tolerance during construction.
Yet thanks to our advanced, tried-and-tested measuring techniques, we can ensure our glass is always measured to the millimetre and installed to perfection.
Ensuring the glass follows these external walls hides any imperfections. This also enables you to offer splashbacks in an almost unlimited range of custom sizes shapes and finishes.