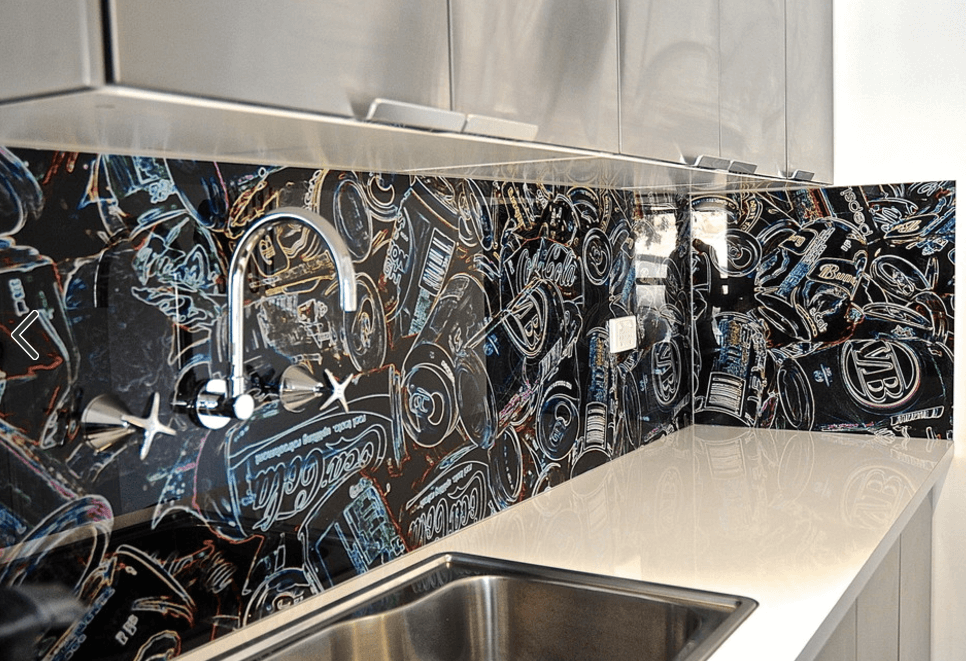 There are 2 main trends to consider when designing a laundry room for your next home project in Melbourne's Western Suburbs.
Trend #1: The majority of Victorians spend more than 3 hours per week doing washing.
This means homeowners are spending a substantial amount of time per week in their laundry areas.
As a result, the laundry room is getting upgraded in many homeowners' minds from an outpost in the garage to a cleaning and organisational centre inside the home.
Trend #2: Laundry rooms are becoming an opportunity for expressions of personal style.
For example, a recent Houzz article named rich colours, natural light and statement splashbacks as 3 of the top 8 laundry room trends to watch for.
By installing a glass laundry splashback, you can capitalise on both trends at once.
Let's take a look at how a glass splashback in a laundry room adds value and style to the space.  
Brighten Dull Spaces
Dark spaces are not energy efficient or very exciting to spend time in.
If the laundry room in your luxury home could benefit from more exposure to natural light, a glass laundry splashback could be the solution.
By installing this glass feature behind the laundry sink and in the space between the worktop and the cabinets, you'll accentuate any nearby natural light.
Selection tip: To maximise the amount of light reflection, explore mirror splashbacks. With the right application, this single design choice can optimise a home's natural light, solve some of its troublesome design issues and exhibit it's high-quality material.
This can help lower energy costs because the homeowner won't have to turn on the overhead lights as much as they would otherwise.
Easy Cleaning, Durable Surfaces
More and more, the laundry room is becoming the epicentre for a home's storage, mudroom and laundry operations.
With this increased activity comes an increased need for protection against dirt, splatter and grime.
This need is further emphasised if the laundry room includes a sink. After all, moisture and/or detergent splatter can severely damage unprotected walls.
Glass splashbacks are proven to be safe and easy to clean.
Thanks to their rigorous toughening process, they won't crack or warp under stresses of high heat or moisture.
In addition, the mud, dust and other debris that typically accumulates in laundry room walls can be easily wiped away with glass cleaner.
Add a Pop of Colour, Texture and Personality
Up until recently, laundry room colour palettes basically had a choice of white or cream with the occasional steel or black.
Now, appliance manufacturers have added bold colours to their washer/dryer appliances, enabling the accents in the space to be bold as well.
Glass splashbacks are a creative way to add calm colour accents or bold colour statements to a laundry room.
There's a wide range of colour choices; almost any colour from a premium paint company will work.
There are also several finishes to choose from, including:
Standard: A solid colour that matches your room design.

Pearl: A pearly shimmer is added into the paint for enhanced effect.

Metallic: Vibrant colours with an added metallic sheen.

Sparkles: Glimmering sparkles accent the colours used in the paint.
You can be confident the colour you select in the store will be the one to shine through the glass because quality glass manufacturers use low-iron glass for splashbacks.
This ensures the highest quality and the most accurate colouring possible.
If you're looking to add even more personality to a laundry room, explore adding a printed glass splashback.
These features involve setting a high-quality digital image behind the glass.
A wealth of high-quality images can be found on popular stock sites such as Shutterstock or iStock. Alternatively, you can choose a favourite photo from a holiday or family outing.
Homeowners throughout Hoppers Crossing and the surrounding areas are catching on to this new trend to give their homes a modern, fashionable look. And the possibilities are truly endless.
Conclusion: Glass Laundry Splashbacks Improve Hygiene, Style and the Effects of Natural Light
More and more, homebuyers are looking for dedicated laundry rooms.
To accommodate, architects and designers are creating more detailed laundry room spaces in their house plans.
This enables homeowners to create comfortable and functional spaces for the whole family to enjoy.
They are more than just utility spaces; they are rapidly becoming the Victorian family's organisational hub.
By making this space unique, easy to clean and memorable, you'll help your home stand out in the crowded Melbourne housing market.
Glass laundry splashbacks are a great way to make laundry rooms fashionable and hygienic.
In addition, their ability to accentuate natural light can help brighten the space and show your focus on energy efficiency.
Why Choose Economy Glass?
Thanks to high-quality glazing, fabrication, and installation techniques, we can make these glass features fit any space.
Our glaziers have world-working experience, having worked in a number of different countries completing or managing glass and glazing works. We have a broad knowledge of different glazing techniques, products on the market and overcoming challenging and complex installations.
In terms of fabrication, we have invested in researching and using the latest technology within our industry. We use complex automated scheduling software, automated design and drawing software and highly accurate laser measuring equipment.
And in terms of installation, we have large stocks of annealed, laminated and mirrored glass in house that ensures fast turnaround times.