Looking for glass splashbacks in Melbourne? Sitting at the rear of your work surface, glass splashbacks designed to protect kitchen walls against moisture, heat, and food debris when cooking.
We're not just talking about the obvious spots that you clean up after each session either; the tiny water molecules that would otherwise seep into the wall unseen can cause structural damage over time.
Due to their protective nature when it comes to moisture and heat, glass splashbacks are ideal for use in bathrooms too.
Glass, naturally, is a fantastic material for splashbacks. The protection offered by a good splashback, can, in the long run, save you considerable amounts of money in remedial building costs.
And with an endless array of colors and designs available out there, we're certain you'll be able to find one to match your kitchen or bathroom. You can buy kitchen Splashbacks or Bathroom Splashbacks from Economy Glass.
But not everyone is familiar with what they're all about, so we wanted to answer some of your questions. So, let's explore glass splashback in Melbourne in a little more detail and discover how they'll benefit your home.
How Glass Splashbacks Made?
Glass splashbacks are made from toughened glass – or tempered glass as it's often known. Glass of this sort heat-treated for additional strength. It'll therefore be able to absorb a bit more punishment and heat before they break.
The toughened glass around five times as strong as normal glass, and, since the exterior is at a slightly different tension to the core, it'll shatter into tiny, blunt fragments as opposed to shards if it's smashed. This makes it a safe choice as well as a stylish one.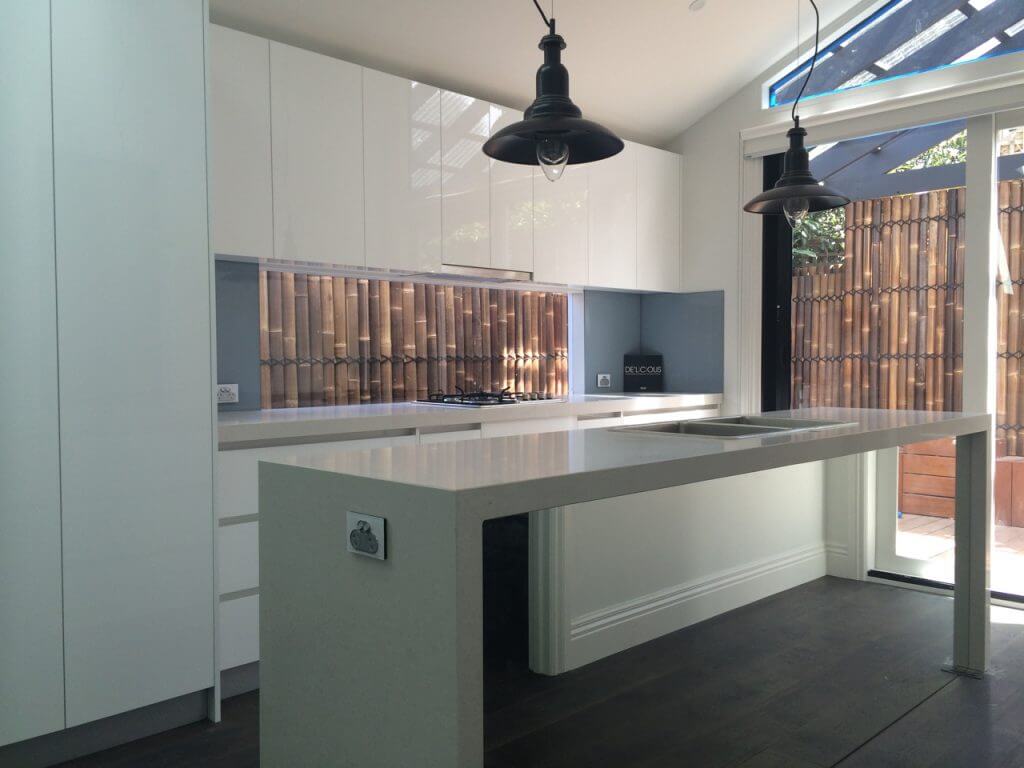 Is It Possible To Cut A Glass Splashback?
While it's possible to cut into tempered glass, we wouldn't recommend it. Once your saw passes through a certain point, the tension between the interior and exterior of the glass will instantaneously resolve – causing it to shatter. In other words, do not cut into your splashback. In doing so, you will ruin it!
We would always recommend having tempered glass splashbacks in Melbourne made-to-measure, this will eliminate any sizing issues and mean that you've got exactly the right size for the space it's designed for.
Can Glass Splashbacks Use with Gas Hobs?
Glass splashbacks will work perfectly well with gas hobs, provided that there's a decent gap between your hot pots and pans and the surface of the glass.
As a general rule of thumb, this should be 110mm or more, as measured from the rear of the hob. Repeated cycles of heat and cold will cause the glass to crack, so it's best to keep the distance between the two as wide as possible.
A gas hob also requires plenty of space on either side. So, if you're looking to install one in a chimney breast, for example, 300mm from each wall is a recommended minimum when installing alongside glass splashbacks in Melbourne. But for best results, you should consider 500mm or more.
You'll also need to be sure that there's a little space in front so that passers-by aren't at risk of knocking pots and pans off.
If you can't accommodate your hob without a decent gap around the front, back, and sides. Then it's time to consider a smaller hob.