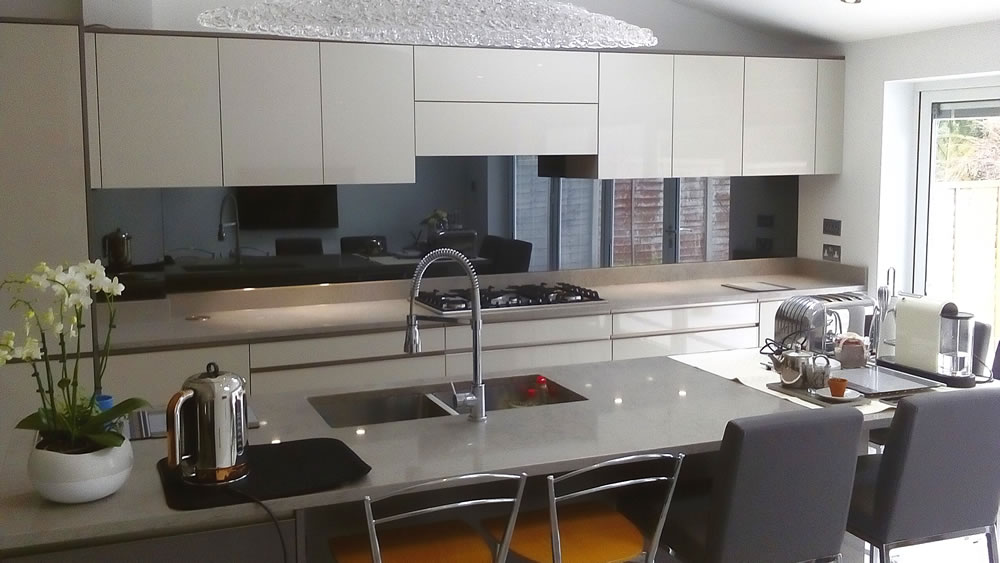 Glass splashbacks are versatile. They can used in many ways throughout the home, always creating an interesting and elegant design feature.
For example, they can be used in the kitchen for the wall panelling around the kitchen bench and the oven hob. They can also be used in the kicker panels, which are the low panels on the bottom of your kitchen.
Glass is great for the kitchen because if it becomes splattered with food or drink, it can easily be wiped down.
Glass splashbacks can also be used in the bathroom. Splashback ideas you can also use for your bathroom renovations. 
For example, there are shower liner glass splashbacks that are installed in the same method as tiles. First, the board goes in and becomes waterproofed and then the glass shower liner is glued to the wall and sealed in place. It is also possible to use splashbacks behind the bathroom vanity, and even the mirror.
Glass splashbacks are not only used in the kitchen or in the bathroom. They can be creatively applied in a range of other settings throughout the house, including in the interior walls, ceilings, joinery coverings, wall panelling in the entranceways and furniture. They are visually stunning in all other areas of the house.
A glass splashback will give your home in the western suburbs of Melbourne a very modern look.
Let's take a look at several different ways you can use glass splashbacks in your home to inspire your next remodelling project.
Glass Splashback Ideas for Your Home
1. Glass Splashback with Blue LED Lighting
The first glass splashback idea. This beautiful splashback looks achieve with blue LED lights, which will give your kitchen a gorgeous glow. This type of lighting is visually appealing and is great for setting a captivating mood. You can choose LED lights of any colour or even find ones that can change hue.
2. Blue Kitchen Interior
This stunning kitchen interior has a striking shade of blue with glass overlaid on top. Not only is it attractive, but it is also very practical because the glass backsplash will be easy to spray and wipe clean of any mess.
3. Glass Kicker Panels
These bright red panels add a lot of visual "pop" to the kitchen and make it look bright and modern. They are a great contrast to the sleek white countertops and chairs and the brilliant sheen of the wooden floor. It is also practical as it would be easy to wipe off any shoe or scuff marks.
4. Spa-Like Bathroom
This gorgeous bathroom involves a lot of glass, such as the glass splashback around and above the tub. This gives it a modern finish that works very well with colours. The cool, muted green tone gives a very relaxing atmosphere to the bathroom and with the white fixtures, it has a subtle, relaxing and spa-like feel.
5. Bathroom Mirror Splashback
There are a lot of gorgeous design elements going on in this modern bathroom. The sculptural vanity adds visual interest while the large bathroom mirror backsplash makes the space feel bigger. This is also a clever way to brighten what could be a dark room with no natural light.
6. A Stylish, Minimalist Kitchen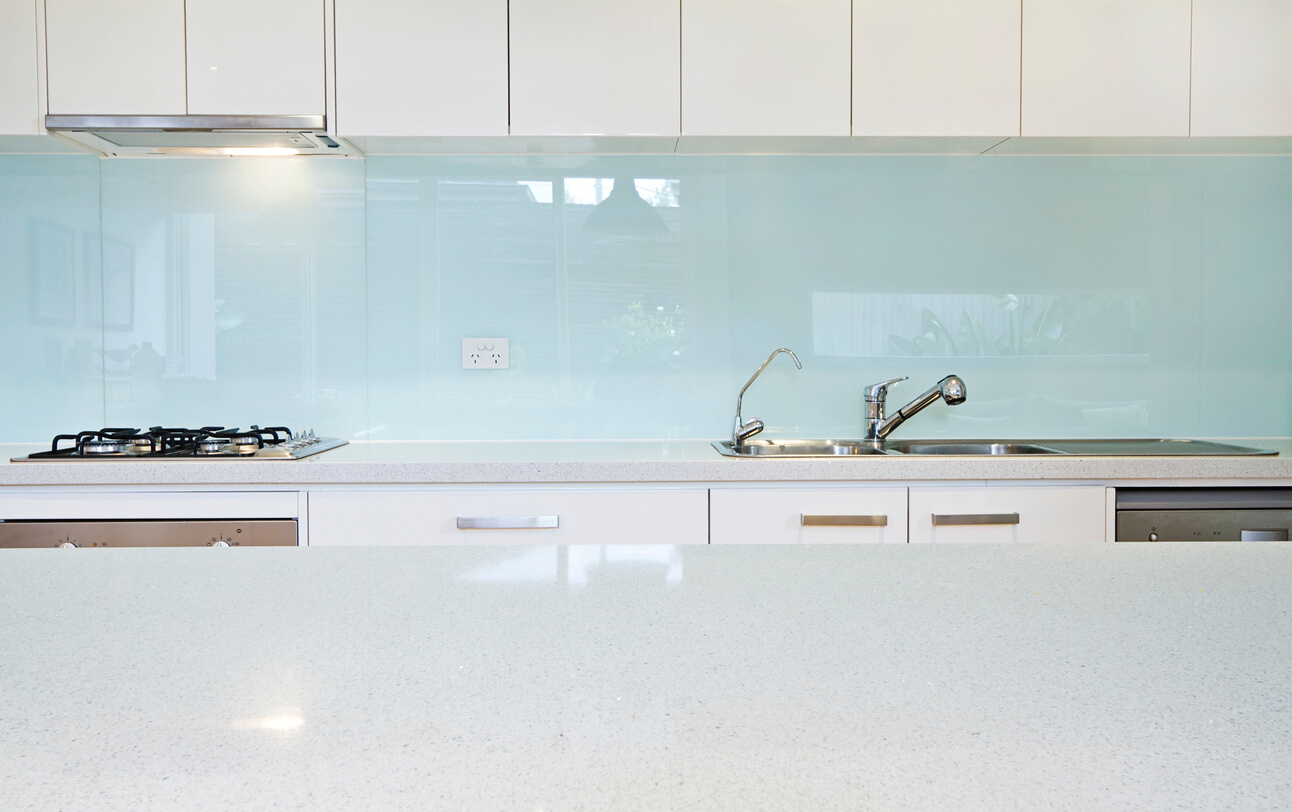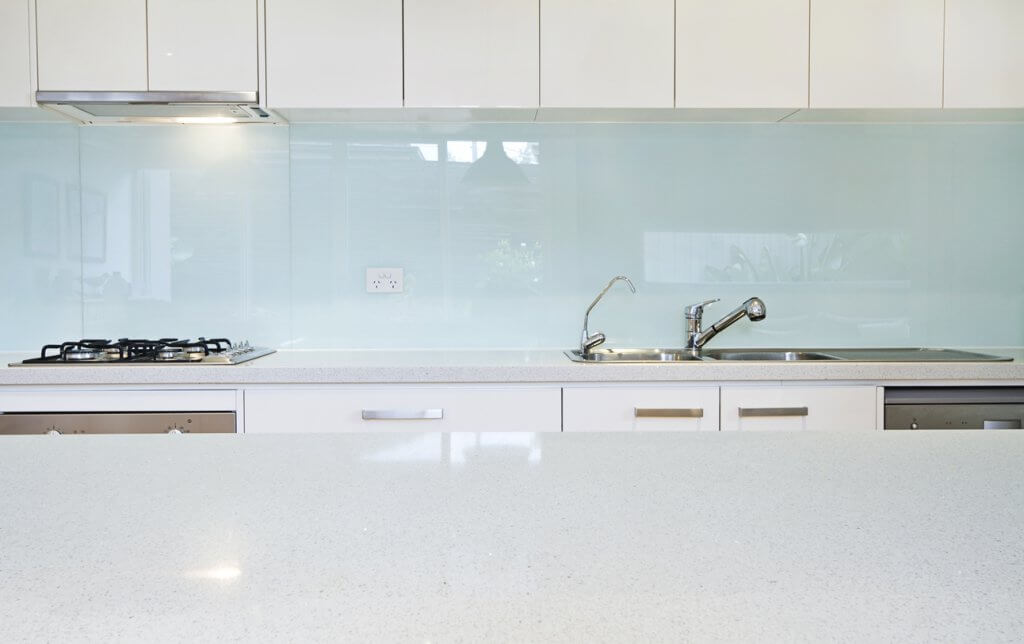 This sleek and modern kitchen has a glass backsplash that is incredibly practical yet also stylish. It complements the clean and neutral appearance of the counters and cabinets and it creates a light sheen.
7. Another Sleek, Simple Kitchen
Here is another modern kitchen look that is neutral and relaxing. The combination of black appliances, white joinery and a glossy beige glass splashback sure works well.
8. Apartment Kitchen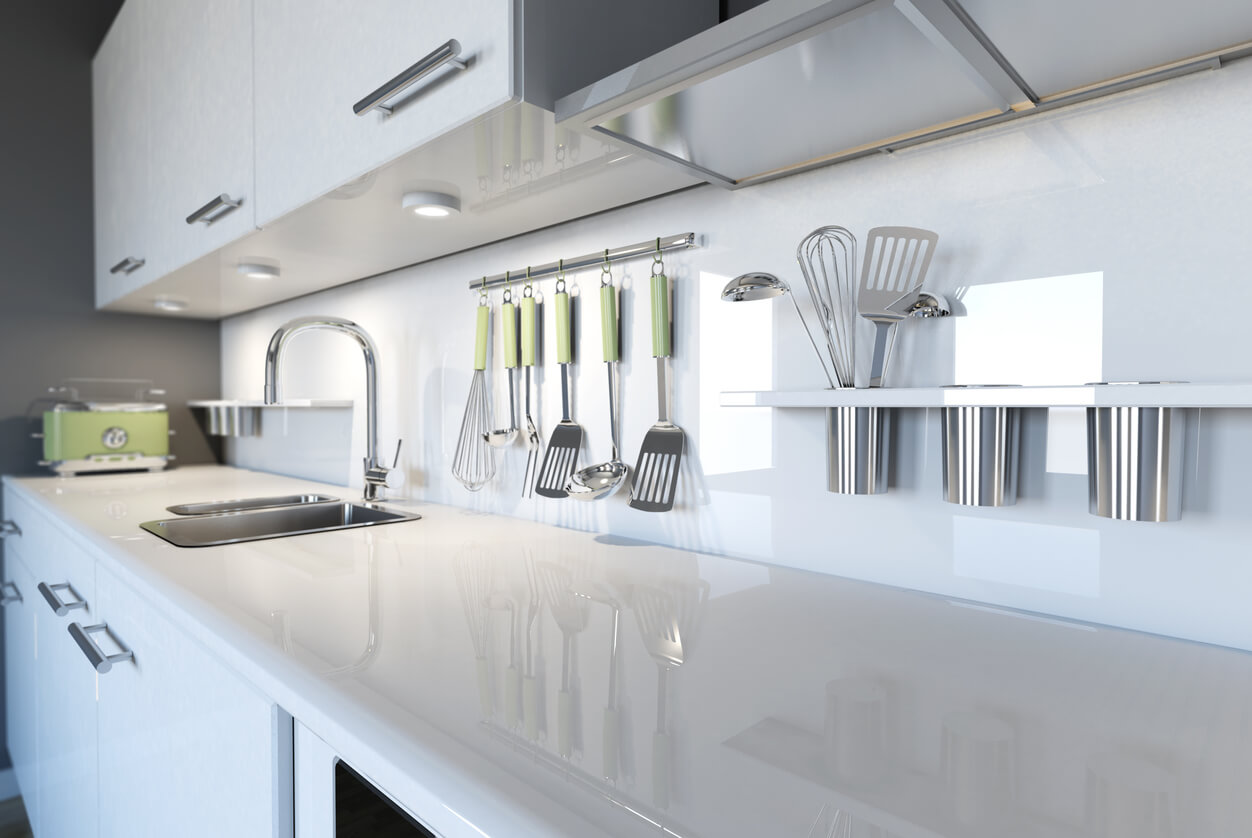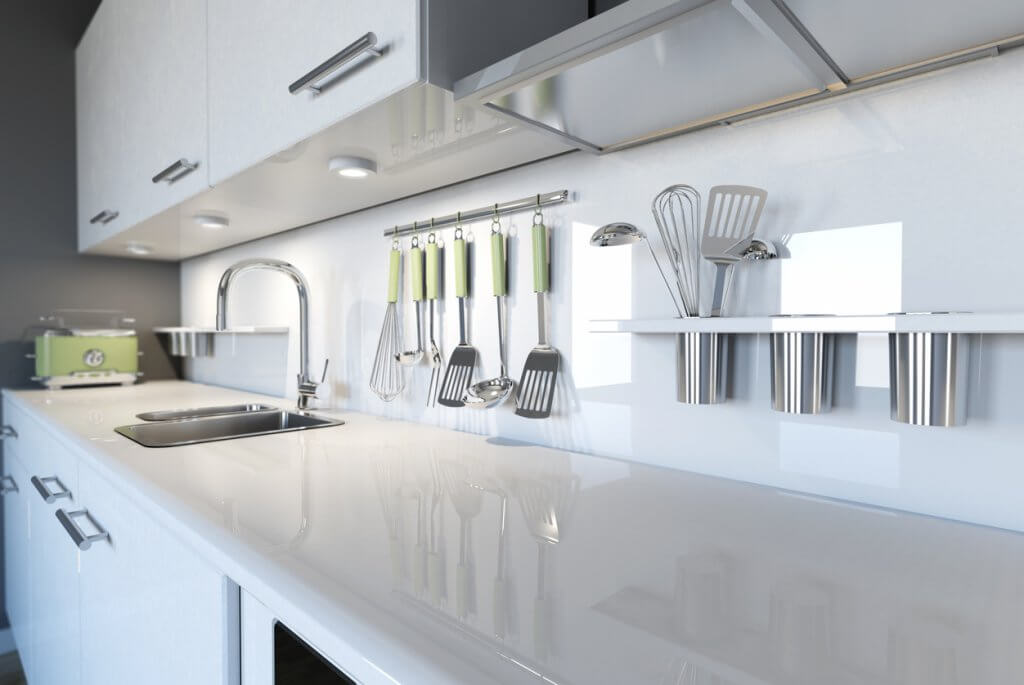 Take a look at the shining surfaces and minimalist modern design of this beautiful kitchen. The bold metallic look of the kitchen faucet brings together the textures of the stone countertops and the clean and sleek glass backsplash.
9. Smoked Mirror Splashbacks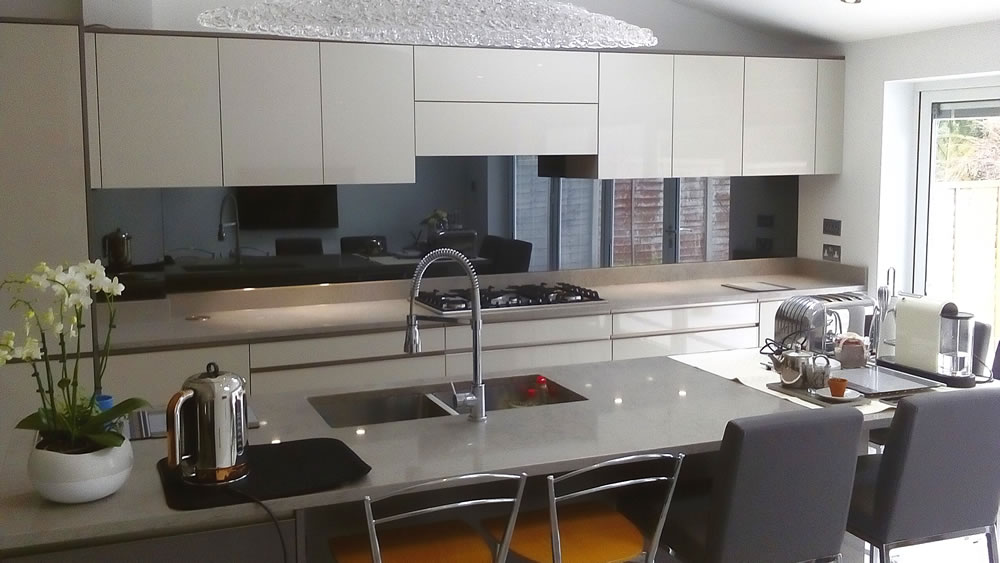 In this subtle, sleek and elegant kitchen, the smoked mirror surface of the splashback looks dramatic and stylish. It reflects the kitchen, adding depth and visual interest, yet in a more muted way. It also complements the grey tones in the chairs.
10. Metallic Finish Glass Splashback
This bold, bright and blue splashback is a great contrast to the sleek white cabinets in this very modern-looking kitchen. Sometimes all you need a little bit of colour somewhere unexpected to really make your interior decor pop!
These are just a few great examples of stunning interior designs using glass splashbacks in and around the surrounding areas of Hoppers Crossing. Take a look through and see if there is anything that appeals to your tastes. Or, you might like a few elements of several different splashbacks and decide to combine them in your own home. This is the great thing about glass splashbacks – they can use anywhere.
Whatever you do, make sure your design is unique to you and that you are in love with every element of it. After all, it is your home, and you will have to live in it. You should absolutely adore every inch of it!
Why Glass Splashbacks Used?
What are the advantages of using glass splashbacks in your home?
Cleaning glass is incredibly easy. You don't have to spend hours scrubbing – just a few wipes and the surface looks as good as new. 

Other materials such as granite or wood attract mould, but with glass, you don't have to deal with this.

Glass can come in a wide range of colours so you can always choose something that will suit the decor of your kitchen. You can even use many different panels to create a stylish pattern with your backsplash.

So, You can also choose the transparency and the finish of the glass, whether you would like it frosted, clear, tinted, etc.

It is even possible to place a photo behind the splashback, which will create a striking graphic look to your kitchen or bathroom.

You could include a favourite quote on your splashback to add a little bit of character and personality to your kitchen.

Glass is heat resistant. You can cook without worrying that the exposure to heat will warp the glass or change the colours.

Glass is beautiful and luxurious, and it has a very elegant and timeless look.

If your kitchen or bathroom is dark during the day, a glass backsplash can be a great way to reflect the natural light. You can also use

glass as a window

to allow light in through your splashback.

Your splashback can made to measure so that it is perfect for your home.