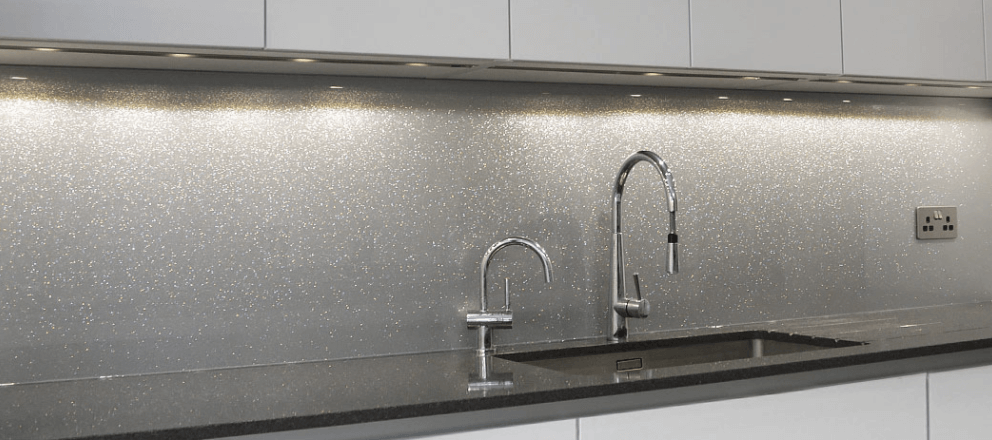 Deciding to install a feature glass splashback colours is a great first step on the journey toward creating a stand-out kitchen in Melbourne's Western suburbs.
The next step, of course, is to figure out what colour it will be.
With so many elements to consider — the cabinets, the benchtop, the appliances, the floors, etc. — selecting the glass splashback colours for your kitchen can be complex.
Taking time to properly consider your colour choices is a worthwhile endeavour. You'll be better prepared, more confident and have a sharper vision of what this kitchen feature will look like.
To help you sort through the choices, we've laid out some of the most common myths designers think of when picking paint glass splashback colours in kitchens.
We'll also debunk these myths and show you how painted glass splashbacks help create unique and distinctive luxury kitchens.
Myth 1: My Selected Colour Will Look Different Behind the Glass.
Many glass producers use iron in their productions. The problem with iron is how it can react with many paints and colours.
In regular "clear" glass, the iron content creates a greenish tint, which is especially prevalent around the edges.
Ultimately, using regular glass leads to big problems because the selected colour will look much different behind the glass than it does anywhere else.
That's why premium manufacturers, like Economy Glass, always use low-iron glass for higher quality and more accurate colouring.
Features of low-iron glass include better:
Transparency;

Light transmission;

Brightness; and

Colour restitution.
In fact, low-iron glass improves transparency by 4-5% over regular clear glass.
This means that your selected colour will show through the glass with the utmost clarity.
Myth 2: Glass Splashback Colours Only Work with Solid Colours.
While a solid paint colour is certainly an option, it is by no means the only option.
When most people think of a solid colour splashback, they envision the paint with a standard finish.
Designers often pick this finish type to pair with wall colours and to create a solid, eye-catching focal point in the space.
Thanks to cutting-edge glazing techniques, however, you can apply paints with other finish types to incorporate elements of depth and movement as well.
The metallic finish, for instance, pairs well with modern stainless-steel appliances. It is one of the most popular glass splashback colours finishes.
A pearled or sparkled finish helps create a textured effect where the colour will shimmer behind the glass.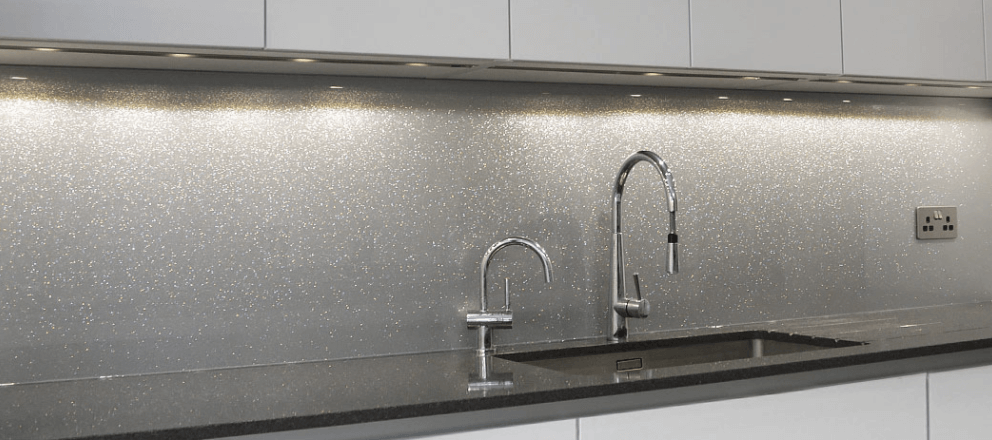 For a heightened emphasis on colour movement, consider textured glass.
Different textures, from straight lines or clean geometrical patterns, to more natural patterns like waves, swirls or a seemingly random design, result in an attractive, interesting visual element, creating more light and another dimension to an interior space.
Myth 3: The Selected Colour Might Lose Its Appeal Over Time
Over the decades, Melbourne's kitchens have seen countless trends come and go.
In recent years, kitchen designers have favoured concepts based on the indoor-outdoor theme, open floor plans, openness, brightness and the strong use of raw materials.
These design elements explain why glass splashbacks for kitchens have become so popular. Installing this feature helps accent all of them.
Yet there is a risk. No one wants to install a painted glass splashback behind the cooktop and then discover the colour has gone out of style.
Luckily, the savvy designer can take steps to ensure the splashback — and the kitchen as a whole — achieves timeless style.
For instance, selecting a neutral colour or an off-white emphasises the reflective quality of the glass while blending into neutrals, whites and earth tones of the other kitchen elements.
Alternatively, a vibrant blue glass splashback combined with whites and greys can accentuate a nautical kitchen theme.
Looking for an earthier kitchen feel?
Combining a dark grey glass splashback paint colour in the kitchen with matching cabinets enables you to emphasise raw material elements such as light wood flooring, stone countertops and wood accents.
Beyond evoking timeless themes, designers can use the splashback to highlight specific kitchen details.
The colour can match major features such as the benchtop, the appliances or the floors. Conversely, it can match smaller details such as light fixtures or island seats.
One popular trend is to match the colour of the glass splashback with the colour of the glass island kicker panel. This pairing can bring a whole kitchen together with a vibrant, cohesive look.
Myth 4: Any Paint Will Work with the Splashback
All Economy Glass splashbacks are painted with premium-quality Dulux Paints.
Their collection of low sheen, semi-gloss and matt paints maintain their vibrancy for years.
With these paints, you'll get the exact colour that fits your design style.
Summary: There Are Endless Possibilities for Glass Splashback Colours in Kitchens
Flexibility is a glass kitchen splashback design strength.
The colour, texture and finish possibilities mean the splashback can fit any kitchen configuration and style.
A combination of quality paint and unmatched glass manufacturing leads to a stunning kitchen feature that will improve the home's overall value.
In addition, glass splashbacks aren't solely limited to paint. Digital prints and mirrored glass options give designers even more options.
Digital prints enable total customisation and allow you to showcase high-quality images, art and patterns.
The mirrored glass reflects open space and natural light to create heightened levels of spaciousness and openness.
So contact us if you're interested in installing a glass splashback in your next kitchen project.
Our team of experts can answer any questions you may have about laser-precision measuring, high-quality glass, fast turnaround times and professional installation.