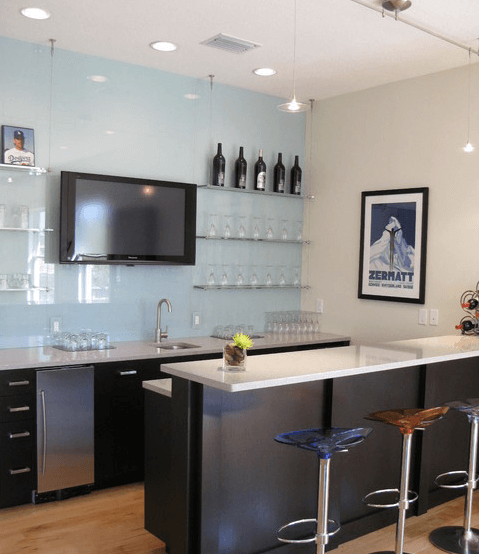 What do you think of when you hear the phrase, "frosted glass"?
Many people think of privacy glass used in modern homes and offices.
Others think of artistic frosted patterns on glass walls, windows and doors that leave parts transparent and other parts fully opaque.
However, there's a different kind of "frosting" process that makes the glass opaque, smooth to touch, smudge-resistant and durable.
It's called acid etched frosted glass.
While not as widely recognised by the general public, acid etching offers many advantages over other treatments.
So in the following post, we'll explain this useful glass treatment technique and how it can be used to create stunning frosted glass splashbacks for the kitchen, bathroom and even the wet bar.
We'll also show how these "frosted" glass features can add value to a home's interior.
1. What Is Acid Etching?
Treating regular glass with hydrofluoric acid creates a uniform opacity while maintaining a smooth texture.
One side of the glass is treated and the depth of the etching can be set to create a gradient of light, medium or heavy opacity.
The treatment does not fade or degrade, even after vigorous washing. In addition, moisture, natural oils and/or humidity will not affect it over time.
Once this type of frosting process finishes, the glass can still be cut and toughened.
The end result: a durable, unique glass product that amplifies up to 95% of natural light without increasing glare.
2. What Are The Other Types Of Glass Frosting Treatments?
Here are some other popular types of frosted glass:
Sandblasting involves spraying glass with sand or other abrasive particles using a high-powered "blasting" machine. This technique is most often used to "frost" sections of glass, such as creating privacy strips or patterns.
Carved Glass is an art form. The artist uses precision carving techniques to dig into the glass and create complex patterns and/or representations.
Glass film also creates complex designs. In this treatment, the frosted "film" adheres to the back of the glass to create a frosted pattern.
In addition to these 3 treatments, many do-it-yourselfers use spray paints to give regular glass a frosted look.
3. What Are The Benefits Of An Acid Etched Frosted Glass Splashback?
As mentioned above, acid etched frosted glass is smudge-resistant and fingerprint-resistant thanks to its unique fabrication process.
When those qualities are combined with the toughening process for a glass splashback, the glass becomes safe, easy to clean and extremely durable.
In addition, the backside of the glass can still be painted to match your desired matte finish colour scheme.
The image below displays Economy Glass's frosted glass paint colours. They include:
Raspberry frost

White

Iced Latte

Alpine Frost

Bailey's on Ice

Grey Haze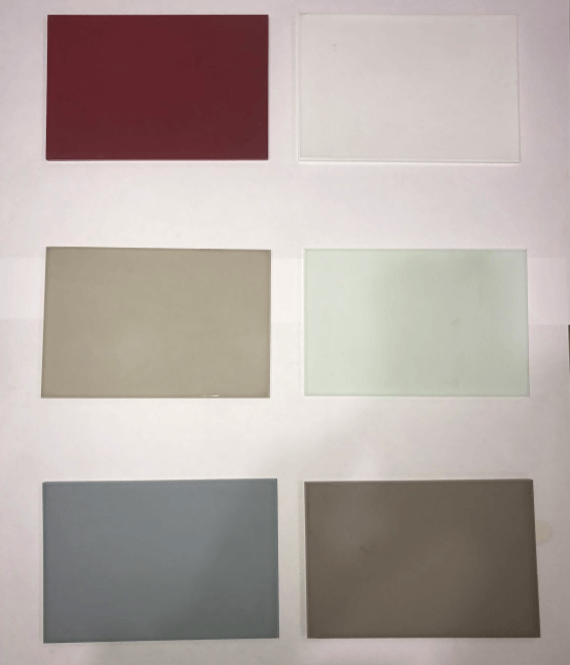 4. How Do Frosted Glass Splashbacks Help Interiors Stand Out?
Here are some of the best ways to incorporate this feature.
In a Kitchen
Frosted glass splashbacks for kitchens provide unique colour and design characteristics. They are a stylish accent for the areas behind the oven hob, above the worktop and on the island kicker panel.
In addition, these matte finish glass splashbacks can reflect natural light without creating unwanted glare.
Best of all, the fingerprints, smudges, oil splatter and shoe scuffs that typically collect in splashback areas wipe away easily without any effect on the finish.
Kitchen Splashback Installation Tip
One of the biggest kitchen hygiene dangers lies with the sealant. It is often placed in openings and recesses, both of which are havens for bacteria.
Using sanitary grade sealants is a great way to combat this, securing hygienic food preparation areas for the homeowner.
On top of this, the sealants we recommend are also mildew and mould-resistant, preventing unsightly discolouration or even degradation over time.
In A Bathroom
The bathroom still tops the list of living spaces where frosted glass is used by homeowners.
It also tops the list in terms of spaces where limescale soap scum and other minerals can do major damage.
A frosted glass splashback as wall cladding can enhance the natural light from a bathroom window while protecting the shower wall from moisture and mould.
By treating the surface with a unique Ecoshield coating, the glass becomes protected by a thin, unseen nanolayer.
This unobtrusive shield makes it easy to wipe away unsightly residue or grime.
In A Bar
Feature shelving, prized bottles and/or fixtures by installing a frosted glass splashback.
By working with your glazier, you can design your frosted glass splashback to incorporate mounted TVs, wall outlets and mounted shelves.
Remember: design is critical. The holes for fixtures, shelves, outlets and switches need to be planned in advance of the glass toughening process.
5. What Are Some Other Uses For Frosted Glass Splashback In A Home?
Designers often combine several frosted glass splashback elements in a space.
For instance, using frosted glass for the cabinet doors, splashback and island kicker creates a light, ethereal kitchen colour palette.
In a bathroom, frosted glass adds a beautiful accent to contemporary and/or modern decor. It also enables natural light to filter through the space while also ensuring privacy.
Some of the most popular frosted glass splashback elements in a bathroom (besides a splashback of course) include:
Shower screens

Doors

Windows

Partitions
Economy Glass Is Melbourne's Frosted Glass Splashback Expert
Distinctive colour treatments are growing increasingly popular in homes, and that is leading to growing demand for back-painted glass products.
A frosted glass splashback may make your next building project stand out to home buyers.
So, contact Economy Glass if you are intrigued by this unique glass treatment.
No other supplier in Melbourne offers such a quality splashback with these finish and colour options.
Plus, our experts will:
Listen to your design goals;

Measure every edge to the nearest millimetre using the most advanced laser measuring technology;

Fabricate a top-quality piece of glass that accurately matches your colour expectations;

Deliver it on time; and

Install it properly.
Learn How to Capitalise on the Growing Glass Trend In Homes
Glass bathroom shower screens and kitchen frosted glass splashback sought-after design features in Melbourne's homes for many years.