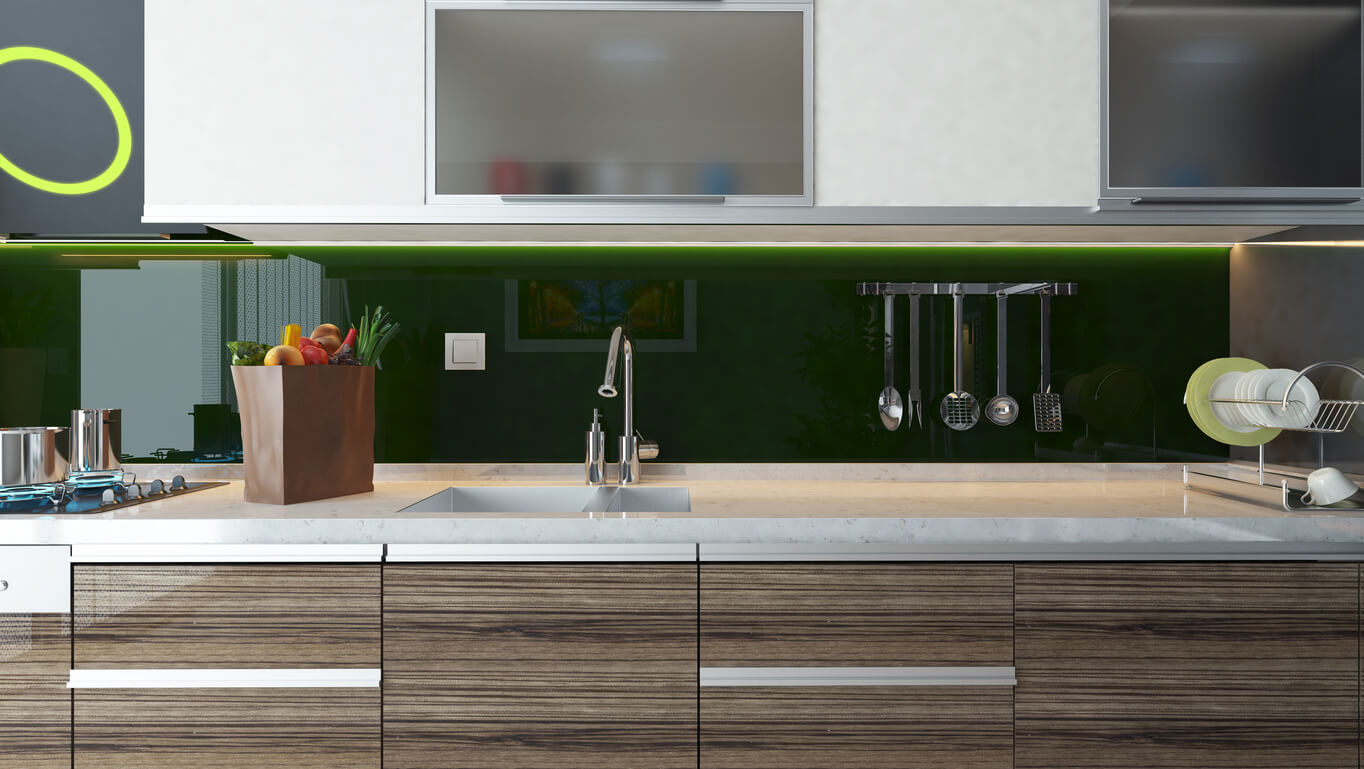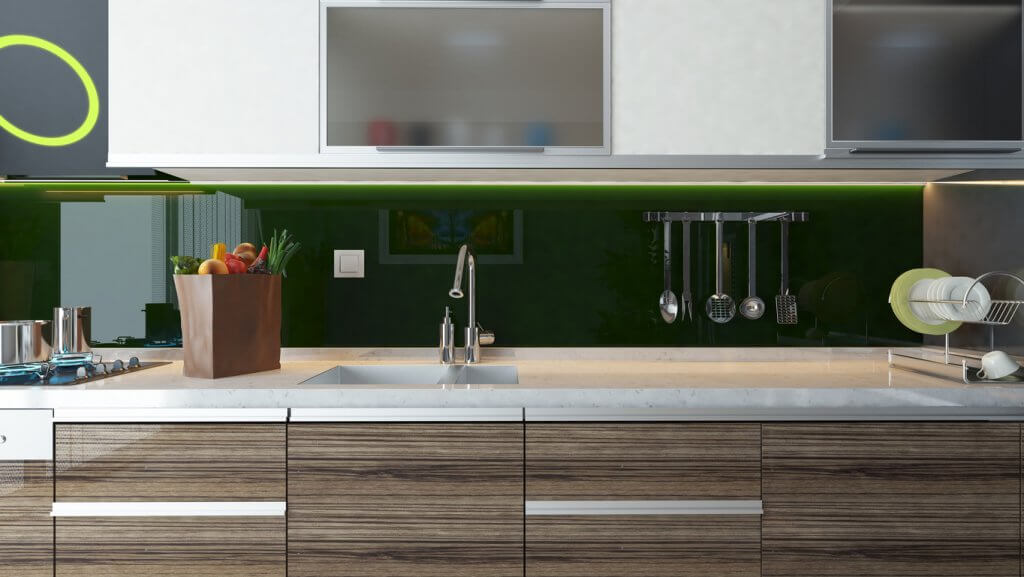 Like splashbacks made of natural stone, glass splashbacks require an additional level of kitchen design planning.
That's because the glass needs to be cut to size before it's toughened. Once this is done, the entire piece cannot be cut or processed in any way.
This puts a premium on formulating and finalising the kitchen design plan before any measurements are taken. It also puts a premium on the measurements themselves.
Below, we analyse the main risks and rewards of a cut to size glass splashback in West Melbourne. By doing so, we hope to show you how professional measurements and installation helps create a successful splashback project.
Risks
When considering a glass splashback project, the biggest fear is an ill-fitting piece of glass that needs to be sent back to the glazier.
This can result in major delays and added costs. From our experience, here are the main reasons this situation comes about.
1. Inaccurate Measurements
Measuring the surface area for a glass splashback can get complex in a hurry.
There's the state of the wall space to consider. Is it straight?
Then there's the shape of the opening. Are there arches to account for? How far does the range hood drop down? Are the cabinets a uniform distance from the worktop or do some hang down further than others?
Are there cut-outs for switches and/or power outlets? How about the pot-filling faucet over the oven hob?
In addition to these initial questions, changes to the kitchen plan layout require careful consideration.
After all, moving the location of a single power outlet opening will require a new measurement.
If you order the glass and then decide to move a wall socket 20 centimetres to the right, the access point will not line up properly with the socket.
2.  Edge Tolerance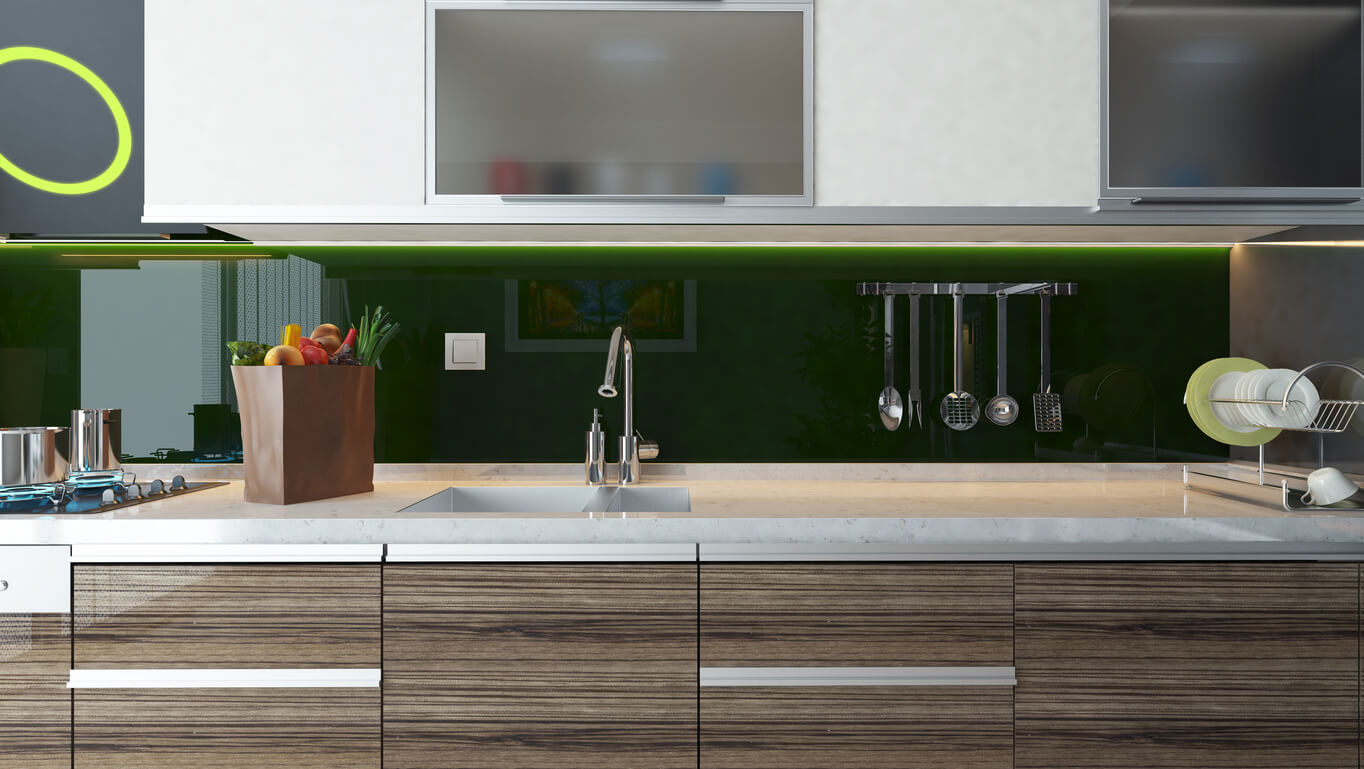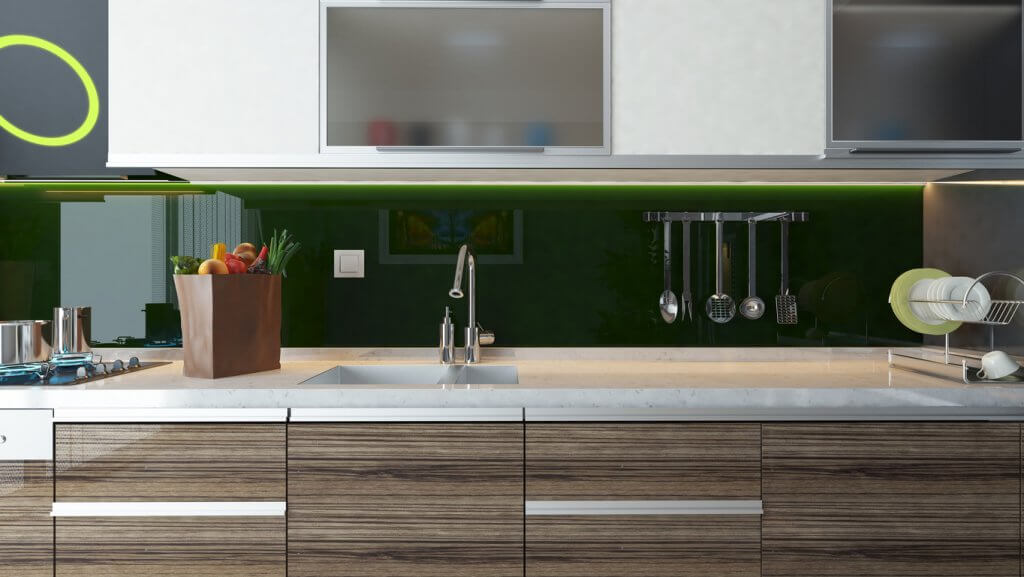 During the measuring process, it's industry standard to include a 2mm tolerance between the edge of the kitchen element and the glass.
These dimensions are perfect as they allow room for the sanitary grade silicone to penetrate and seal the join, while not being noticeable to the naked eye.
In addition, this space acts as an allowance for the glass to move slightly if the house moves or settles.
3.  Join Lines and Intersecting Panels
If the cabinets and worktop continue onto adjoining walls, continuing the glass splashback creates a continuous, seamless look.
However, this also creates intersections where one glass panel meets the other.
These situations create micro measurements that can be difficult to calculate accurately by do-it-yourselfers.
An alternative option is to attach the glass to the walls with screws. This choice moves away from the seamless contemporary style toward a more industrial, modern look.
It also involves an extra layer of planning because the screw holes need to be drilled before the glass get's toughened.
Rewards
Getting all these measurements correct is a tough job, but the effort is worth it! Here are the benefits of a perfectly-measured cut to size glass splashback.
1. A Unique Bespoke Kitchen Feature
Glass splashbacks enable kitchen designers to make a creative and stylish focal point in the space.
If the wall space lacks natural light, mirror splashbacks can:
Reflect natural light from nearby openings;

Invite other areas of an open floor plan into the kitchen; and

Increase the kitchen's "daylighting" effect.
If the kitchen has a neutral or white palette, painted glass splashbacks make a stunning feature. For example, you can:
Create a modern, eye-popping contrast by installing a black glass splashback cut to size;

Amplify the stainless steel accents of appliances and fixtures by using metallic paints behind the glass; or

Blend with nearby wall colours to maintain a clean, neutral theme.
Design Tip: There's no need to worry about the selected colour changing because of the glass. Quality glaziers use low-iron glass, which improves transparency 4-5% over regular glass.
If the designer or homeowner desires a strong personal statement in the kitchen, a printed glass splashback offers the ability to:
Display favourite cityscapes, landscapes, or family photos;

Incorporate a favourite pattern in the splashback wall space; and

Preserve favourite images of nature, destinations, or even people.
2.  A Seamless Look Free of Grout Lines
Glass panels can be cut from sheets as large as 3.8 metres.
This means most wall spaces can be covered by just one or two panels.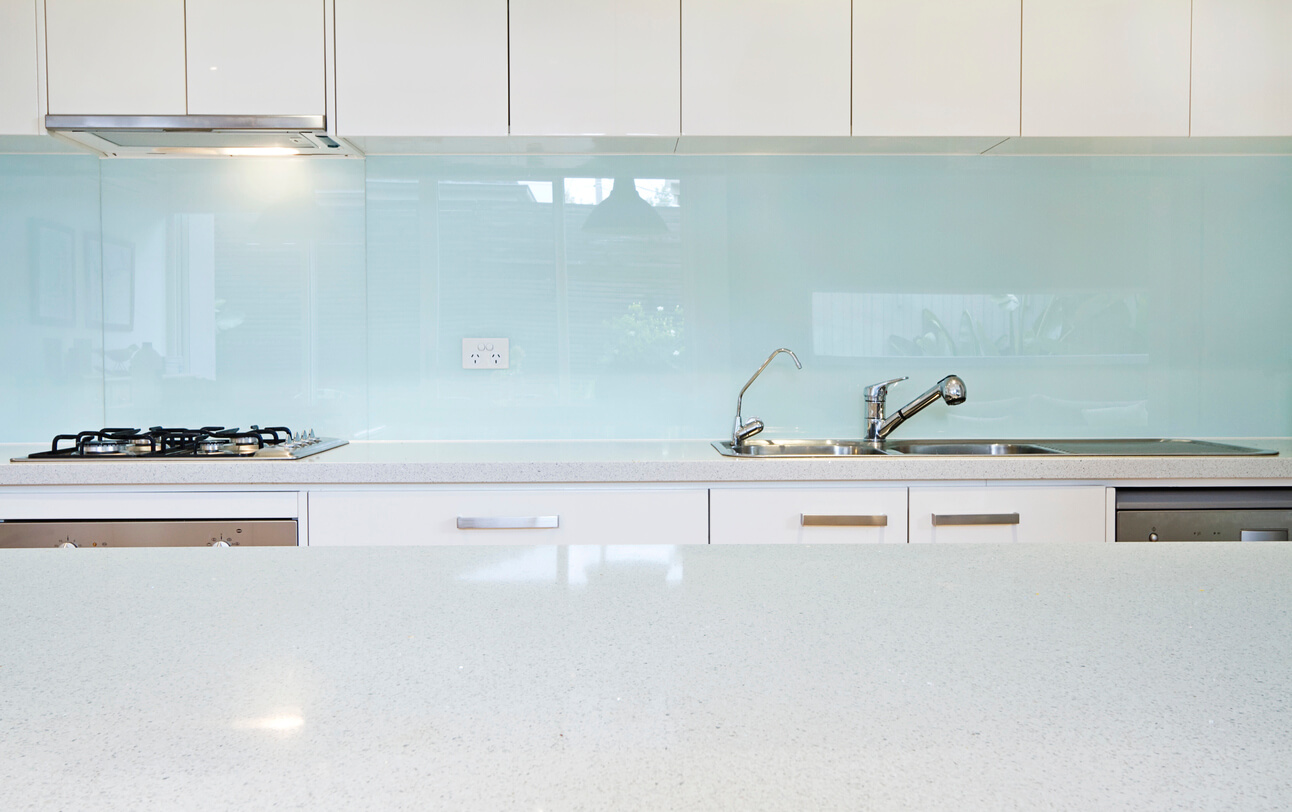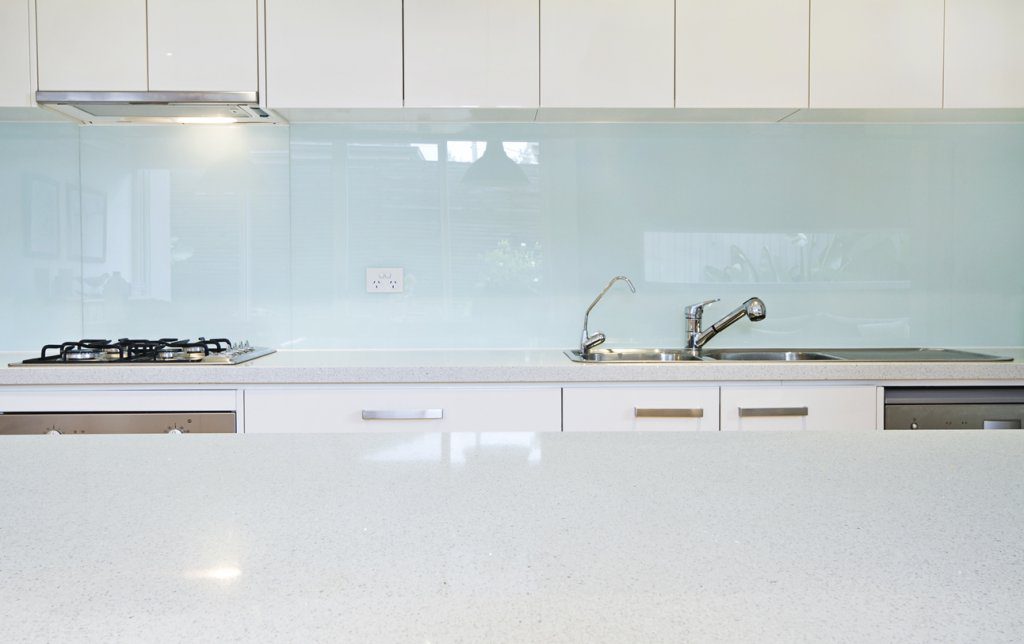 When two panels intersect, a sanitary grade silicone sealant gets applied to fill the gap.
Unlike tile grout, this sealant is easy to clean. It's also mould and mildew resistant. Plus, it's colourlessness making it hard to notice.
3.  A Safe, Durable Splashback
No matter the style choice, a professionally cut to size glass splashback offers:
Easy cleaning;

Wall protection; and

Resistance to chips and cracks (it's up to 5 times stronger than regular annealed glass).
The toughening process creates a sheet of glass that can withstand extreme heat (up to 250 degrees C) and impact.
In addition, any destruction that may occur as a result of an earthquake or other natural disaster won't result in dangerous jagged shards of splashback glass. Instead, toughened glass breaks into small pieces.
Economy Glass Approach: Cut to Size Glass Splashbacks
Most openings provided by even the best builders and cabinet makers have a degree of tolerance during construction.
Ensuring the glass follows these external walls as closely as possible hides any imperfections and ensures that you are able to secure a perfect fit for the homeowner.
At Economy Glass, our technicians constantly train with the cutting edge of laser measuring technology.
This enables us to offer glass splashbacks cut to size in an almost unlimited range of shapes and finishes. In addition, our 700m2 warehouse includes all the processing equipment necessary for complex jobs.
Combine these facts with the use of high quality glass, premium paints and some of the fastest turnaround times in Hoppers Crossing and West Melbourne, and it becomes clear that Economy Glass is a top choice for any glass splashback project.