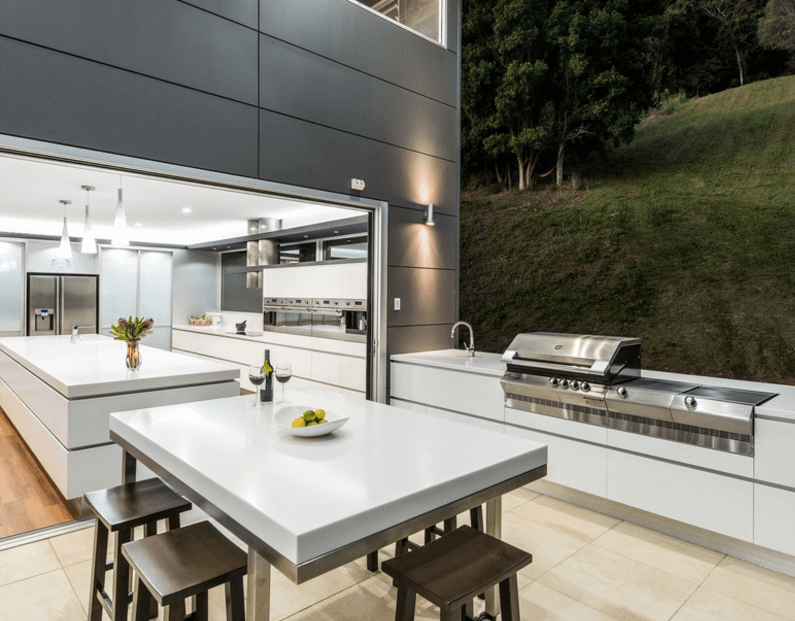 For builders targeting affluent home buyers in and around West Melbourne, creating a distinctive modern outdoor kitchen space is increasingly becoming a "must."
There are several reasons for this growing trend, including:
Year-round good weather means homeowners have more opportunities to entertain outside.

Melbournians are becoming more adventurous with the foods they cook on the barbecue.

An overwhelming majority of Victorians own a gas-fired barbecue.
So figuring out how to make this appliance stand out gives home builders in the Hoppers Crossing and surrounding areas a market advantage.
As a result, builders are constantly looking for ways to elevate the design and usability of the barbecue area. One of the most popular ways to make your modern outdoor kitchen stand out is to install a BBQ glass splashback.
Why?
This feature enables builders and homeowners to showcase the best elements of the outdoor space while enjoying the durability and easy-to-clean elements of a glass splashback.
In this article, we'll dive into the details to show how a BBQ glass splashback can make your modern outdoor kitchen complete.
Maximize Indoor/Outdoor Life
Creating a covered deck off the indoor kitchen with an outdoor kitchen area creates a natural and logical flow.
The benefits include:
Protection from rain and wind.

Quick transitions to and from dining areas.

Maximum views of landscapes, outdoor play areas, and gardens.
Yet this design setup also brings major challenges for barbecue areas.
First and foremost: how do you barbecue under a roof?
The answer many builders have decided on includes building the barbecue into a deck wall and adding a range hood.
The creation of this wall space allows for a distinctive splashback design. And with a BBQ glass splashback, you'll create a durable, safe, wall-protecting surface that is also artistic.
The tempered glass can easily withstand heat from the barbecue and if it does shatter for any reason, the shards will not be jagged and dangerous.
The proper sealants will ensure no warping due to moisture. Using sanitary grade sealants is a great way to combat this threat because they also secure hygienic food preparation areas.
On top of this, the sanitary sealants are also mildew and mold-resistant, preventing unsightly discoloration or even degradation over time.
And like indoor kitchen glass splashbacks, the BBQ version can be easily cleaned and wiped down with glass cleaner.
A Dynamic Natural Backdrop
The splashback wall of a covered deck offers a unique opportunity to show off the aesthetic of the home. By installing a tempered glass splashback behind the barbecue, you can amplify the natural light that streams into the space.
In the image below, for instance, the designer paired a black paint color with a glossy glass finish.
As a result, the sky and landscape are reflected by the glass. This creates a naturally distinctive backdrop that can change with the weather and time of day. It can also amplify the effect of the under-cabinetry back lights, which can help for night-time entertaining.
Installation Advice
Pairing a BBQ glass splashback with an indoor kitchen glass splashback has many installation benefits.
First off, the indoor kitchen will have a showcase feature, as well as the BBQ area.
Secondly, a quality glazier will be able to measure both projects in one visit, fabricate them at the same time and deliver them together.
At Economy Glass for example, our 700m2 factory has all the processing and installation equipment required for complex jobs.
Plus, we have large stocks of annealed, laminated and mirrored glass in house that ensures fast turnaround times.
Lastly, we have formed high-level relationships with the top glass suppliers in Melbourne to ensure we always deliver our products on time and to a high standard.
An Opportunity for Unique Outdoor Expression
Besides amplifying the natural beauty of the outdoors, a glass splashback in a modern outdoor kitchen enables you to express your artistic side. Metallic paint color can mesh with a stainless-steel barbecue, as well as any other appliance, to create a bold color palette that meshes well with raw material accents.
Looking for a feature to display even bolder choices?
A digital print glass splashback can turn your favorite image or pattern into an eye-catching modern outdoor kitchen element.
Conclusion: BBQ Glass Backsplashes Help Capitalise on the Outdoor Kitchen Trend
While outdoor cooking once meant a charcoal grill, a beer cooler, and a bit of sunshine, the current trend in the modern outdoor kitchen is moving toward more contemporary features.
This includes elements such as:
Weather-resistant cabinets

Built-in stainless steel refrigerators

Sinks

Ambient lighting
The idea is to create a modern outdoor kitchen space that can produce the same high level of cooking and entertainment options as an indoor kitchen. The centerpiece to all this, of course, is a high-quality built-in grill.
BBQ glass splashbacks help accentuate the high-quality nature of the feature. They can complement any designer's vision, whether it's a space that reflects the surrounding natural beauty or one that showcases personal style.
Plus, they'll stand up to the high heat and excessive moisture that modern outdoor kitchen endure.
The Benefits of Professional Glass Splashback Measurements
Glass splashbacks require a lot of front-end planning because the glass cannot be cut once it's been tempered. This means every corner and cut-out for outlets, switches, and appliances needs to be finalized and measured to the nearest millimeter.
Quality glaziers, like Economy Glass, use advanced laser technology to ensure exact measurements. They will also work with interior and exterior designers to ensure the desired colors, textures and finishes meet the highest standard.
So, contact Economy Glass if you're interested in a glass splashback for the outdoor BBQ, indoor kitchen, bathrooms, home office, or bar areas.