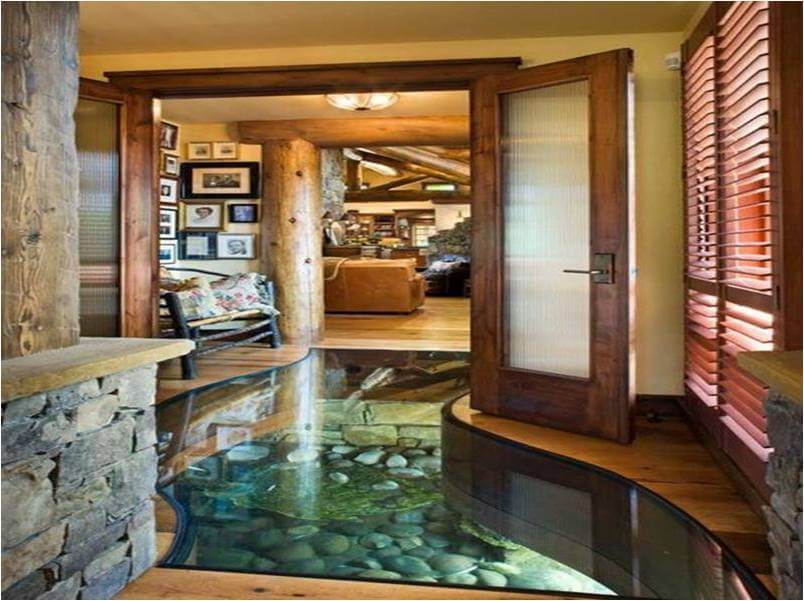 Glass flooring doubles as an in-floor aquarium. Source: Uniobio.com
Bright living spaces are certainly much more inviting than sun-starved interiors. We all know that filtering light indoors is not always easy. This is primarily because of planning conditions and structural restrictions.
Designers often look to filtering natural light with open-tread staircases, glazed internal doors and open-planed layouts. If you want something different, then glass floors could be a great option for you. They are ideal for bringing in natural light and in turn, can help create a contemporary style in any interior layout.
These walk-on glass units offer an excellent means to transfer light to different levels of an enclosed structure.
Design Considerations and Features
Following are a few advantages of walk-on glass and floor lights.
Versatile Designs
Glass floors can either translucent or transparent. If there is no need to view through the walk-on floor lights, translucent units are usually the best way to go. On the other hand, transparent units are useful for viewing something above or below the surface.
Like glass windows, floor lights also come in a variety of colours. Coloured pigments typically added to the flooring's interlayer, giving the effect of coloured glass.
Seemingly Endless Applications
Glass floors are not only practical choices for illuminating dull areas, they can also be stunning from a design perspective and the perfect solution for an array of applications.
Aside from allowing light to permeate into indoor residential spaces, glass flooring is commonly used in tourist attractions and observatories to give people a better view of what lies beneath. Floor lights create a dramatic feature for mezzanines, landings, balconies, and other areas that are overhanging or floating on water.
Hanging 4000 feet above the ground, the Grand Canyon Skywalk is, thus far, the highest viewing observatory with walk-on glass flooring. Other renowned observatories that use glass floors include the Tokyo Tower Observatory Deck, CN Tower in Toronto and of course our very own Eureka Skydeck Tower in Melbourne.
This type of glass is also used in museums as in-floor display cases, in boats as an underwater viewing deck, and in planetariums to give one an impression of floating in outer space.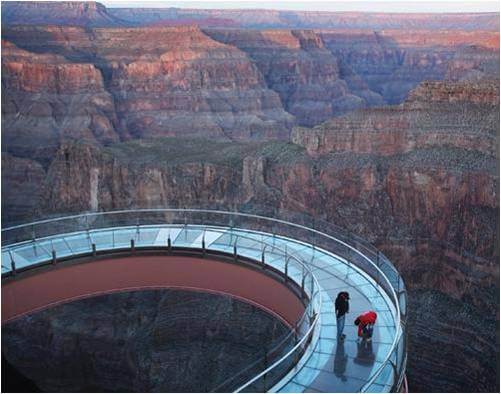 The glass-bottom skywalk in Grand Canyon. Source: Reviewjournal.com
Non-Slip
Glass in nature is smooth, hence it being usually slippery. Glass floor surfaces were specifically designed and treated to be slip-resistant. With an anti-slip ceramic-frit coating, glass flooring becomes an invaluable alternative for traditional solid floors and staircases. Other non-slip application techniques include sandblasting and acid etching.
Durable
Regardless of whether the walk-on glass is transparent or translucent or for stair treads or floors, toughened glass is typically the glass type of choice due to its durability, structural strength, and resistance to breakage–a three-inch thick glass flooring can hold up to five tons in weight.