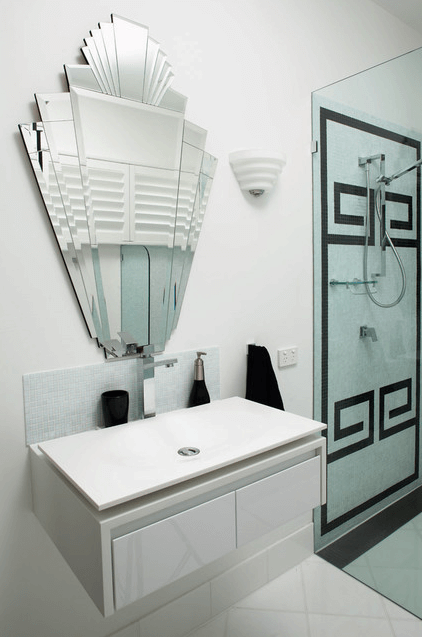 Whether you want a unique statement piece in your West Melbourne home or want your mirror to help you achieve your design vision, only custom mirrors can yield the results you're after.
Picking out a beautiful mirror will always enhance your interior design, but customising your mirror has the power to transform it.
Glass is an incredibly flexible and versatile material to work with as there are just so many things you can do to a piece of high quality glass, especially with all the possibilities that modern technology offers.
Cut, bevel, colour and finish to suit your space and make your creative ideas come to life. Here are some of the ways you can have your glass customised.
Achieve Bespoke Dimensions with Custom Cut Mirrors
Today's laser technology has revolutionised what professional glaziers can achieve with mirrors. Glass can be cut to exact measurements with a laser, leaving you with a precise set of dimensions that are perfect for your space. Instead of settling for cookie-cutter shapes and sizes and forcing a mirror to work within your interior, you can have one custom measured to elegantly fit next to your living room wall art, to brighten up your hallway, to complement your bathroom decor or to meet any of your other design goals.
Knowing that you can achieve any size you want when the glass is cut to precise dimensions, it's possible to get really creative with your mirrors, placing them in areas of the home you might not have previously considered, and securing truly flawless design. Custom made mirror glass on doors, stairways, in alcoves or measured to highlight other features of your home – the possibilities are endless.
Create Unique Mirror Shapes
Using lasers, mirrors can be custom cut from a sheet of glass to a desired shape. This means conventional mirror shapes and sizes do not confine you. Whether you want your mirror to work within a particular frame, or if you are using frameless glass, aim to think beyond the standard square, rectangle, circle and oval to hexagons, diamonds, domed tops and customised curves and edges.
You can have your mirror custom cut to complement your existing tile designs, artwork, furniture and more. Even subtle differences in shape can make profound style statements, adding to the uniqueness and character of your luxury home.
When using reclaimed materials for unique architectural designs, custom mirrors are a huge advantage as you can have your glass shaped and sized to suit another material that you want to include in your home, such as this gorgeous copper wall.
Use Different Mounting Options
With custom mirrors, you also can take advantage of various mounting options. Traditionally, mirrors are mounted on a wall with a mounting device or adhesives, depending on how heavy the glass is. When you work with custom glass professionals, you can do so much more.
Open up a narrow passageway or basement with ceiling mirrors. If your home has an architecturally sophisticated ceiling, customised mirrors are fantastic for bringing your unique design elements to life, adding movement, light and dimension to your property's original design.
Create an enchanting look in your bathroom, using features that will interact with the light and allow light to pass through. Think frameless glass shower screens, bevelled window glass, and vanity mirrors. This luxury bathroom becomes more than a washroom, but an experience. With the mirrored ceiling and brilliant sunlight coming in behind the shower, walking into this bathroom is like stepping into a mesmerizing dimension of glass, marble, porcelain, and light.
Who said all mirrors have to mount on the wall? Your custom mirror can install to fit within other structures in your space. This can create the illusion that your mirror is floating in space or it can serve as a reflective room divider.
Here's an example of how mirrors can mount. So, that they appear to flow seamlessly out of the window glass. This brings out the natural beauty surrounding the indoor space in a fantastic way, creating the feel of being outdoors, whilst within the sanctuary of this zen-like interior.
Finish Your Mirror with Custom Edges
The faceted sides of bevelled glass create an appealing prismatic effect. Light bounces off in different directions, dancing upon the varied surfaces. Use a simple or more elaborate bevelled finish, depending on the style of your interior design.
Polished edges will give your mirror a more sophisticated aesthetic, making them a popular choice in luxury homes. With professional glazier edging techniques, you can achieve anything from subtle elegance to edgy statement pieces such as this brick-styled mirror glass splashback.
Add Vibrancy with a Coloured Glass Mirror
Another way you can use custom glass to make your vision come alive is by using colored materials. From the bold look of blacks and greys to the intense beauty of rich copper, rose and gold hues. A custom mirror with colored glass always adds to the ambiance of your interior.
This gold glass splashback reflects back a warm, alluring color, contrasting with the stark black and white color scheme of the kitchen.
In this bedroom, the antique glass wall creates an intriguing ambiance. Transforming this guest bedroom into a breathtaking retreat of luxury and ornate style. The antique grey of the glass pulls together myriad purples, and textures. And patterns of the rest of the space, delivering a more complete and satisfying whole.
The Difference that Customised Mirrors Make
Glass is the most versatile architectural material. Change its shape, use faceted edges, a smooth finish, subtle coloring, and bold design; it's up to you. When you combine well-made, quality glass with professional craftsmanship. You can use your creativity to achieve a bespoke glass mirror that doesn't just fit within your space but elevates it.